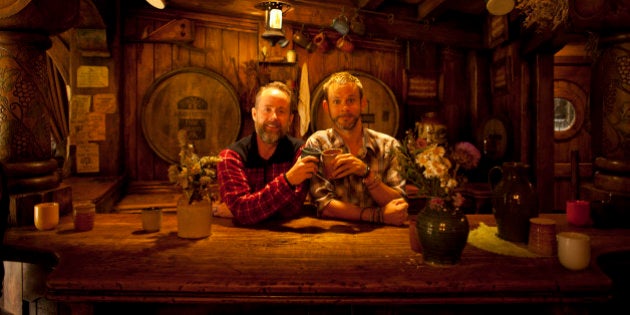 It's been over 10 years since "Lord Of The Rings: The Fellowship Of The Ring" was released, but it feels like yesterday -- at least, it certainly does for former Hobbits Dominic Monaghan (Merry) and Billy Boyd (Pippin). Monaghan and Boyd reunited in New Zealand, the home of the "LOTR," for an episode of Monaghan's nature show, "Wild Things With Dominic Monaghan."
It's the first time the pair has returned to the "Rings" locale since filming wrapped on the third movie. Watching the two of them explore and discover the wildlife of New Zealand is a treat for "LOTR" fans and non-fans alike: Monaghan and Boyd are like brothers, telling poop jokes and impersonating their "Rings" co-stars Ian McKellan and Ian Holm.
HuffPost Canada TV spoke with the ex-Hobbits about their time on "Wild Things," the feelings evoked back on the "Rings" set, and whether or not it always gets dirty when they're together.
HuffPost Canada TV: This episode was adorable and amazingly fun. You can tell you guys have a real friendship. A fellowship, if you will! How much fun did you guys have together?
Dominic Monaghan: That's great, that's what we wanted to get across. We are close friends and we know each other really well. We were doing something fun, but also something entertaining.
Billy Boyd: It was wonderful. For me it was great to watch Dom in his element. Ever since I've known him, I've known that he's into animals and the "weird" stuff. It's brilliant and lovely to be a part of it.
At one point Billy says Dom asked other "LOTR" cast members to guest-star on "Wild Things" first, before he asked Billy. Was that a joke or was that true?
DM: [Laughs] That was a joke. Obviously Billy is my best friend, and there's no one else I'd rather have come with me. He's always at the top of the list.
BB: [Laughs] There's no way I would have allowed him to ask anybody else! It's me first, and he knows that. Then afterwards he can make his way down the list.
What sorts of feelings were evoked when you were back on the "LOTR" set?
DM: I think we were both quite emotional and overwhelmed by it. I've been back, and Billy's been back (I think), but it's the first time we've been back together. What was beautiful about that was we could look at [one another] and know what each other's feeling. We didn't have to explain. Billy and I have been on a bunch of crazy journeys. It was poignant, and both of us were happy that a place like that has been frozen in time. We actually went behind the bar and served drinks at the Prancing Pony. The Korean and Malaysian tourists were completely flummoxed by us being there. [Laughs]
BB: There were a lot of feelings. The culmination of it all was in Hobbiton. That was the most obvious moment that we had. To be there again and to spend the whole day ... just strolling around. We'd be like, "Remember being here?" It was a magical thing, for sure. When we filmed the actual films, we moved around a lot. It was funny to go back to a set place. I can't believe it's been over 10 years ... the fastest 10 years ever.
Your impersonations of Gandalf and Bilbo were perfect. Just spot-on.
DM: [Laughs] Oh, yeah! We've done that for years, constantly impersonating Pete Jackson, Elijah Wood, and Orlando [Bloom]. Actors are natural mimics. We had talked about it beforehand, and Billy has more of a natural perceived innocence, and I do a pretty mean Gandalf.
BB: [Laughs] We mastered them. It was good fun. I particularly like Dom's Gandalf eyebrows.
Do things typically get "dirty" when the two of you are together?
DM: We tend to get a little silly with one another, and we enjoy breaking the rules. Billy is quite disarming because he looks sweet and innocent. He and I together make each other play a little bit more. One of my favourite things in the world is making Billy laugh.
BB: When Dom and I are together, it normally ends up there, yeah. [Laughs] We try to start it as high art, but it doesn't stay there for very long. I think we're always trying to make each other laugh, even with the crew and all that. We don't have to try hard for anything ... we really enjoy each other's company. Normally it ends up with us making jokes about poo. No one makes me laugh as much as Dom.
So what sorts of creatures are you two on the hunt for in this episode of "Wild Things"?
DM: We go to look for the giant wetapunga, which is one of the largest insects in the world, certainly one of the heaviest. It's like a massive cave-dwelling cricket. We also go to a cave and see a bunch of glowworms - which are cool. I also find one of my top five animals in the world; it's called a tuatara, and it's just like a lizard. It's a reptile that has its own class, and it's a beautiful creature. They can live over 100 years, they have a third eye, the males don't have a penis ... they're a slightly cuddlier version of an iguana.
BB: You know, I really loved the cave wetas. To go deep underground and see those crazy stalactites and see how long it takes for them to form, that was amazing. It was like something from "Alien"! Thousands of them, just crawling around under there! Nature is so incredible. Life just happens everywhere. We are so egocentric; we think it's our world or something. These things don't even know we exist!
Billy, are you grossed out by anything in particular?
BB: Animal-wise, no, not really. I really enjoy them, obviously to a lesser extent than Dom. There's no way I'm going to hold an animal on a stick, that if it bites me I'm going to lose my arm. That's not going to happen. I'll look at it from a safe distance. Dom seems very at home with things, even if that animal could bite your finger off. [Laughs]
Would you two ever pair up again for another episode of the show?
BB: I would love to come back! I'll give Dom my bucket list of countries that I haven't been to yet, and then if he can get me there with the promise that a cobra won't take my arm off, then I'll go there with him. I'd love to go to Madagascar.
What are your thoughts on the success of "Wild Things"?
DM: I think the show's success is based on having an audience that has gradually become more and more worried about how we're distancing ourselves from the actual world we're living in. There's an audience crying out for knowledge now, because we sit in our rooms on our computers all day long. "Wild Things" watchers are bloody smart, and they don't want to watch "Keeping Up With The Kardashians" or "Honey Boo Boo." They want to learn something, along with being entertaining.
This particular episode of "Wild Things With Dominic Monaghan" airs on Tuesday, May 6 at 9 p.m. ET/PT, 7 p.m. MT and 8 p.m. CT on OLN and on BBC America in the U.S. You can catch the show every Tuesday.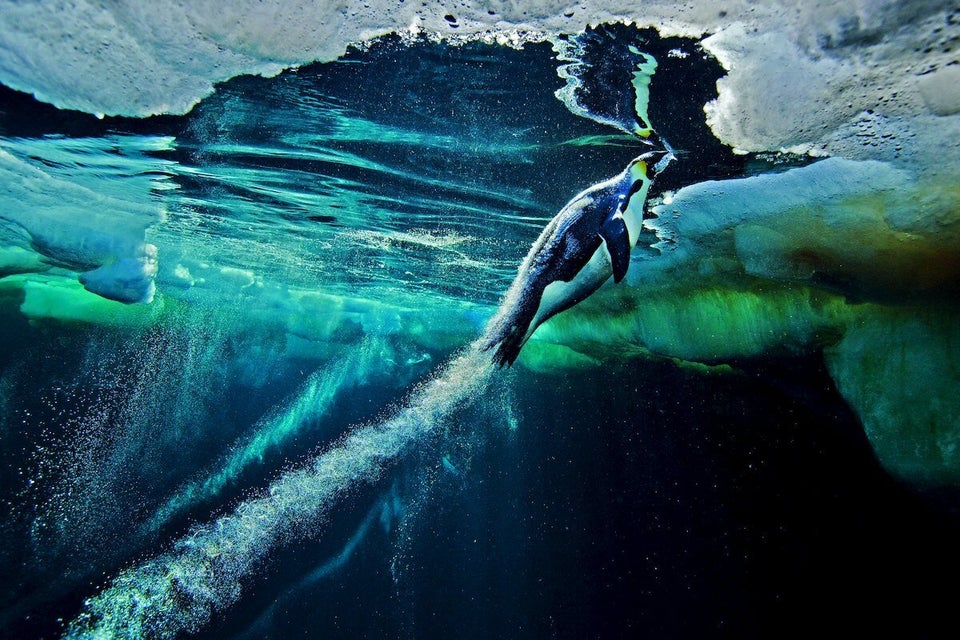 The Masters of Nature Photography