Hold on to those cowboy hats, Calgary. This is one burger that is sure to send your head for a spin.
According to our friends over at the Calgary Stampede, the legendary Nashville North party tent is moving to make way for a barbeque venue that builds 777-lb. burgers – yes, you read that correctly.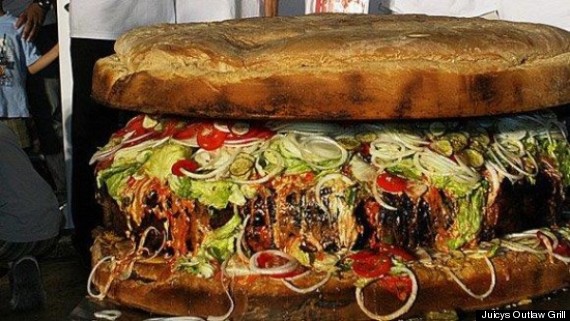 Juicys Outlaw Grill specializes in big. They're one of the food vendors for the newly announced Triple B: Barbecue, Bulls and Beer venue, where you can order a massive hamburger or hot dog while sitting on the city's largest patio.
125 lb hot dog on the menu at Juicys a new world record!!!!!! pic.twitter.com/rnloyNWB7f

— Juicys Outlaw Grill (@juicysfood) March 22, 2014
Juicys holds the Guinness world record for the largest commercial hamburger and hot dog, and a fork lift is reportedly needed to lift the enormous hamburger patty on to the grill.
According to the Stampede, you must order the record-holding hamburger 24 hours in advance and the price will set you back $5,000.
In addition, the new Triple B will also feature wood-fired barbecue beef ribs, bison burgers, giant kabobs, and cowboy potatoes served up by Big Bubba's Grill.
Meanwhile, the Nashville North tent will take a trip across the grounds to the former Kids' Midway where its proximity to the Cowboys Casino will create a "designated party zone."
Check out the lineup for Nashville North in the video above and don't forget to click through the gallery below to see what other snacks you can find on the midway this year.
Calgary Stampede 2014 Midway Foods
Like this article? Follow our Facebook page

Or follow us on Twitter