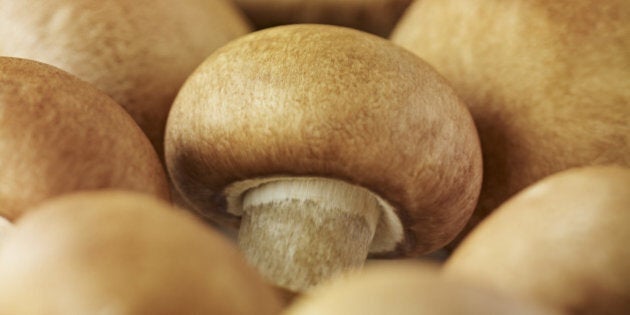 LONDON, Ont. - Of the roughly 8,000 kinds of mushrooms that grow in Canada, only a handful are carried in most grocery stores.
Just seven species — white button, cremini, portobello, shiitake, oyster, king oyster and enoki mushrooms — are farmed here, says Shannon Bryan, marketing and digital content co-ordinator for Mushrooms Canada, an umbrella organization based in Guelph, Ont., that includes all 40 commercial growers across the country.
It is very difficult to duplicate the medium in which many mushrooms grow, says Jonathan Forbes, owner of Forbes Wild Foods in Toronto, which gathers and sells all kinds of foraged foods nationwide.
"All mushrooms have a symbiotic relationship with where they're growing," he says. "Sometimes it's connected to the roots of the trees; sometimes it's in the soil."
For example, growers have not been able to replicate the terroir of morels (in season now) or chanterelles, two popular species. However, they and many other wild mushrooms are available, often in dried form, from firms such as Forbes' or at farmers markets and specialty grocery stores.
Of the 8,000, "probably a couple of hundred are edible," Forbes says, although edible may not mean tasty. "There are probably about 50 that are really good to eat."
Ontario growers produce about 55 per cent of the Canadian commercial crop, Bryan says, followed by B.C., the Prairies, Quebec and the Maritimes. Most of it goes straight to the consumer market.
"The whites and the browns, both cremini and portobello, are the biggest crops, and then the specialties would be grown in smaller amounts."
As for taste, white, cremini, shiitake and portobello mushrooms are described as "woodsy," "meaty" or "earthy." Cremini have a slightly more intense flavour than white, shiitake have a "soft, spongy quality," says Mushrooms Canada, and portobello, because they are so large, lose some of their moisture, giving them a meaty texture.
Oyster, king oyster and enoki mushrooms have a more "delicate" or "mild" taste. Oyster mushrooms have a "velvety" texture, king oysters are described as "chewy" and remain firm when cooked and the exotic-looking enoki have a "slight crunch."
All are extremely versatile. They can be served raw or cooked and go well with most seasonings, says the Mushrooms Canada website.
To microwave whole or thickly sliced mushrooms, put 200 to 250 grams (seven to eight ounces) in a dish, cover and cook on high for two to three minutes, stirring once. No butter or oil is required.
Large-cap mushrooms such as portobello, shiitake and jumbo whites can be grilled or broiled — four to six minutes per side and the mushrooms should be brushed with oil at the beginning and once or twice while cooking to keep them moist.
To roast, place mushrooms in a shallow baking pan, toss with 15 ml (1 tbsp) of oil and roast in a 230 C (450 F) oven for about 20 minutes.
"The most commonly gathered wild mushrooms in Canada are morels, chanterelles and pine mushrooms or matsutake," says Forbes. Most of the matsutake are exported to Japan.
Forbes usually has 20 to 30 varieties of wild mushrooms a year. Among the earliest are pheasant back mushrooms, which grow on dead elms, followed by morels and early chanterelles, usually in July.
King boletus mushrooms, also called porcini or ceps, grow from Newfoundland and Labrador to B.C. and into the far north. There are also black trumpet and lobster mushrooms, blue chanterelles "and a winter chanterelle, also called the yellowfoot, which you can sometimes buy right up until November."
"Most wild mushrooms have a fair bit of flavour," says Forbes.
Black trumpets are "really aromatic, so if you put them in a soup or a stew, you're really going to know." Pheasant back "smell very much like watermelon." Chanterelles have "almost an apricot flavour" and go well with chicken. "Black trumpet and morels would probably be better with steak."
He thinks that in a few years, the medicinal properties and health benefits of mushrooms will be a "big story" in North America.
"Mushrooms have always been recognized as medicines in places like Japan, Korea and China and somewhat in Europe," he says.
An extract of maitake mushrooms, for example, is said to boost the immune system and limit or reverse tumour growth. Promoters claim it also enhances the benefits of chemotherapy and lessens some side-effects of anti-cancer drugs, such as hair loss, pain and nausea. No definitive scientific confirmation has been found yet, but research is underway.
"We were taught when we were kids that mushrooms were basically worthless, had no food value. Well, they've found the opposite."
But he warns that many kinds of mushrooms contain poisons that can make you very sick or are hallucinogenic and there are about eight kinds that are fatal.
"So people have to be very careful about it and never pick anything that they don't know exactly what it is.
"Mushrooms also take on heavy metals, so you don't want to pick them near any industrial site or highway or hydro corridor or train tracks. It's just not going to be good for you."
There are many written and online resources about identifying wild mushrooms. Mycological societies (groups with an interest in wild mushrooms and other fungi) and other experts often guide the uninitiated on mushroom-picking forays into rural areas.
To contact Susan Greer, email her at susan.greer(at)rogers.com.
Mushrooms Canada, www.mushrooms.ca