If you're the kind of cook who gets easily flustered in the kitchen then how about tattooing your recipe to your arm?
An innovative new Italian cooking design concept called "I Tradizionali" allows amateur chefs to easily follow their recipes with the help of temporary tattoos.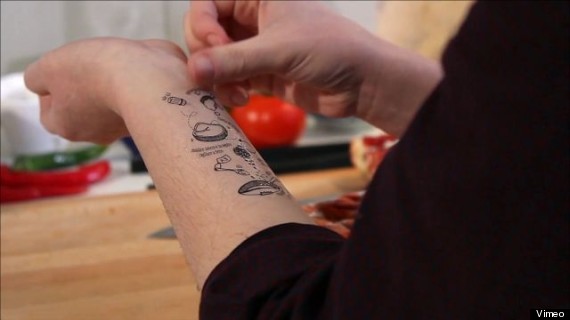 The brainchild of Italian designers Marina Cincirpini and Sarah Richiuso, I Tradizionali offers various body artwork designs using simple images to give instructions.
The designers were inspired to create the concept by the thought of combining culinary and traditional tattoo-culture.
"The project steers from the traditional behavior of following cook books," they explain.
"Rather, it puts our bodies at the core of cooking. This idea has clearly inspired the illustrations which are also used to demonstrate how the recipe is done."
Initially conceived for the Premio Lissone Design competition in 2013, I Tradizionali has now been launched on crowdfunding website Eppela.
Recipes will include everything from salad to cakes, with a handful of traditional Italian pasta dishes thrown in for good measure.
Each of the tattoos will be available in Italian and English.
Also on HuffPost