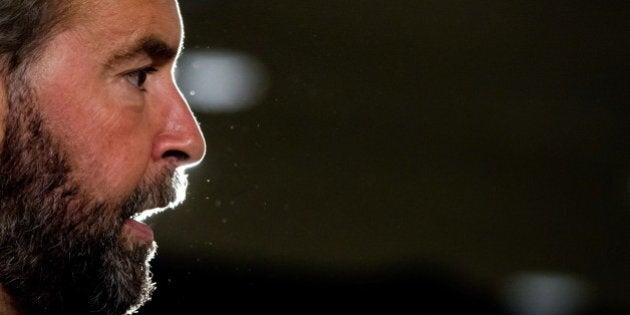 OTTAWA — On Thursday NDP Leader Thomas Mulcair will face off against his political opponents about his party's alleged use of taxpayers' resources for partisan gain. What did the NDP actually do and did they break any rules?
There are two issues up for discussion. First, the use of a satellite offices outside Ottawa where the NDP employed parliamentary staff who worked alongside political party staff in a location that was paid for by the party.
Second, the use of an MP's "franking" privileges — free and unlimited mail — that the NDP used to send close to 2 million letters into Tory and Liberal MPs' ridings, including hundreds of thousands into three ridings just before by-elections calls last year.
Here are a few points about what the rules state and who said what to whom when:
Between July 25, 2013 and January 6, 2014, the NDP sent 1,968,655 pieces of mail in 26 ridings where it has no MPs. In the Quebec riding of Bourassa, the NDP sent 155,428 pieces of mail to 50,095 households just before a by-election call. In Toronto Centre, the party sent 165,188 letters to 92,382 homes in the riding before the by-election call.
More than 65,000 letters were also sent to homes in the Manitoba riding of Provencher before the by-election. None of the letters were dropped off at Canada Post during the writ period, which would have been against the rules.
Some of the letters, which featured leader Thomas Mulcair prominently and the NDP logo, attacked other parties for being unethical, made reference to the election and to changing the government in 2015.
As The Huffington Post Canada first reported Monday, an investigation by the Board of Internal Economy, the secretive all-party committee that administers the House of Commons, found the NDP mailings were partisan in nature.
The board has yet to issue a decision but HuffPost learned that staff recommended in an initial report that letter or "franked" mail be subject to the same rules limiting large-volume mailings to an MP's own riding, as is the case with so-called ten percenters (flyers sent to 10 per cent of the riding).
It was also recommended that the board ensure all mailings produced for or on behalf of a member of Parliament be invoiced to his office budget, as per the rules now.
MPs are not allowed to use their office budgets to pay for external printing services to print, produce or distribute more than 4,500 copies of any material except season's greetings cards.
The NDP, the House administration believes, got around this rule by paying for the printing itself. (The House has not received invoices for a minimum of 1.9 million letters).
MPs are not allowed to use the House of Commons printing and photocopying services or their MP budgets to:
- solicit membership in any political party
- solicit for monetary contributions for any political party
- produce election campaign material
The by-laws also state explicitly that MPs cannot use taxpayer-funded resources to benefit their political party or attack their opponent. The Commons' printing services would not have agreed to print the NDP letters because they breached several rules: they were campaign material and directed readers to the party's website which features a "donate" button.
The NDP got around this rule by using a third-party supplier to print the material. The party paid for the printing of the letters, although taxpayers paid for the mailing.
The rules state that "the House Administration is the sole provider of large-volume printed materials for Members" and that any material in excess of 4,500 copies that is produced by a third party or by the MP's offices themselves will not be processed or assembled by the House.
The NDP circumvented this policy by by-passing the House printing service. The rule was adopted following complaints in 2010 that MPs were sending flyers to other MPs' ridings, the so-called 10 percenters. It was designed so the House could track if any MPs were pooling their resources together to send large mailouts (which is banned).
MPs are not allowed to send large-volume mail to other MPs' ridings. The rules however only specify bulk mailing and the NDP used franked mail, letters sealed in envelopes rather than flyers, which has no qualified limits.
Franking privileges — the Canada-wide postage-free unlimited letter mail MPs can send — is a donation of sorts by Canada Post and it is given only to Members of Parliament. Party leaders or party research offices are not supposed to use franked mail since it is designed to help MPs communicate with their constituents.
Most if not all the NDP MPs who sent letter mail to other MPs constituents were not communicating with their own voters. However, it is possible that some of the letters — they were sealed so the House doesn't know what was in all of them or even if there are more than 1.9 million — were sent on behalf of MPs who are critics in certain areas to communicate with people interested in those topics (which is allowed).
Rules state, however, that MPs are not to share their franking privileges with other individuals or groups. It's one more reason why the NDP mailings were seen to break the rules.
"It is reasonable to conclude that these mailings were produced for a third party, and the franked envelopes were provided for the use or benefit of that third party," a document prepared for the board states.
NDP Leader Thomas Mulcair said this week that "the NDP has respected those rules and every other every single step of the way." He suggested Wednesday that there are people in charge of the publications who looked "at every single one" to determine if they broke the rules, but it wasn't clear if he was referring to NDP staff or Commons staff. The House administration did not look at the NDP letters because they were in sealed envelopes and it has no authorization to open them.
With regards to the by-election mailouts, Mulcair cites the fact Elections Canada said the party didn't break any rules. That's true, if the letters were dropped before the writ and therefore Elections Canada has no jurisdiction, spokesman John Enright confirmed.
"The only problem with somebody who's told that no rules were broken, but continues to insist that there must be something wrong with the spirit, is that they're just not going to accept no for an answer," Mulcair said this week.
What do the NDP's political opponents say?
The Liberals recently asked Elections Canada to investigate whether the NDP mailings constituted an election advertisement and a reportable expense during the campaigns' spending caps. (Elections Canada's first review dealt with the timing of the mailing).
Liberal MP Marc Garneau told HuffPost he wants Elections Canada to consider whether the mailings amounted to an election advertising and a donation to the party. If the mailings were considered a contribution, Garneau said it would breach the Elections Act in several ways:
1) the donation is not made by an individual
2) it is worth more than the maximum contribution limit of $1,200
3) it was not disclosed nor counted towards the by-election spending cap.
Garneau said he also believes that the NDP mailings which featured the party's logo prominently and its website did not meet the House of Commons rules for printing.
"You can not have content that advocates for one party or candidate or against another. You can also not include a web link to a page that solicits donations for a party (which ndp.ca does). Since these letters are ineligible to have the House print them, we do not believe the NDP caucus had the right to use parliamentary resources, such as the frank, to mail them," he said.
Elections Canada seemed to confirm in a letter to the board earlier this month that it is looking into the issue of large-volume mail with the House of Commons.
Canada Post spokesperson Carley Smith said the crown corporation doesn't track mail by party affiliation but that MPs, senators, the governor general, the parliamentary librarian and the ethics commissioner sent about six million letters and almost 132 million pieces of unaddressed mail last year. The cost of sending an individual letter was 63 cents in 2013. That could mean the NDP's mailings were worth $1.24 million dollars last year.
If the NDP is found to have breached the rules, the MPs who flouted the law are personally liable for any expenses. So any MP who used their frank could be in trouble and the same goes for any MP who signed off on the controversial satellite offices and used their office budget to pay for additional staff.
SATELLITE OFFICES & POOLED STAFF
The NDP hired people that were paid for by Parliament to do outreach and communications work next to staff that also worked for the party in office space provided by the party. The NDP had offices in Quebec City, Montreal and Toronto. Mulcair confirmed Wednesday he still plans to hire someone in Saskatchewan, although they will probably work from home.
The by-laws state that MPs can locate a constituency office in another MP's riding as long as that MP agrees with it. So, it would have been legal for a Quebec MP to have a constituency office — with a lease paid for by the House of Commons, furniture and equipment paid for by the House of Commons and staff paid for by the House of Commons — in Montreal. But political staff cannot work in that office.
Every MP is allowed to established a constituency office "to serve constituents and carry out the Member's parliamentary functions." Those offices are usually located in their riding and MPs with large ridings often have more than one office — which is okay under the rules as long as they use their budget to pay for it. Constituency offices are supposed to be there to serve constituents for things like immigration files and EI problems.
The rules clearly state that MPs cannot use Commons resources to benefit a political party. The funds, goods, services and premises provided by the House of Commons "may be used only for the carrying out of the Member's parliamentary functions."
When the NDP complained that former Bloc Quebecois leader Gilles Duceppe had used his Hill office budget to pay the salary of a party official, the board clarified the rules saying: "It was never the intention of the Board to allow House of Commons resources to be used to support political party activity or party staff."
Anything related to the administration, organization, and internal communication of a political party, including selling memberships, fundraising or engaging in electoral preparation cannot be subsidized or paid for directly or indirectly by taxpayers.
An MP cannot use their staff or office budgets to support or oppose a candidate or party in any election. They also cannot use any of their resources to assist an electoral district association.
There are no rules about pooling of MPs' office budgets together to pay for shared staff. When the NDP set this system up for its Quebec MPs in the fall of 2011, House administration initially asked the NDP why the staff couldn't just join the NDP caucus research bureau. Political parties with more than 12 MPs receive additional money to help them carry out their parliamentary work. The national caucus research office is located in Ottawa.
Emails and letters of offer, released to committee members Wednesday evening and obtained by HuffPost, show the NDP's human resource coordinator Marie-Dominique Sicé recognized it was "a very complex file" and not an easy task to dock a small percentage of the office budgets of seven MPs, for example, to pay for one employee.
Documents previously released to MPs suggest Commons staff knew the NDP employees lived in Montreal but that they were assured by the NDP that employees would be working "in Ottawa."
On April 14, 2014, the board adopted a new rules to specify that no employee could have "as their regular place of work any space in premises owned, leased or under the effective control of a political party."
What does the House of Commons Administration say?
In documents given to MPs, the Clerk of the House of Commons Audrey O'Brien says she and other public servants were unaware staff serving Quebec NDP MPs were located outside Ottawa.
"At no point was the House Administration informed that the employees would be located in Montreal or that their work would be carried out in co-location with a political party's offices," she wrote.
One email in particular suggests that former interim leader Nycole Turmel's deputy chief of staff Jess Turk-Browne told two Commons employees the NDP staff would be working "in Ottawa."
The letters of employment released to MPs Wednesday suggest, however, that the Commons had in its possession information suggesting the NDP Quebec caucus services was located in Montreal.
The documents are redacted and the letters make no specific mention of where the employees will be working, but on several it states NDP Quebec caucus services and underneath "Montreal (QC)". They are not uniform though. In one letter, MP Guy Caron writes that he is pleased to offer an individual from Longueuil, Que., a job in his "parliamentary hill office" as a press secretary. But this person was in fact working in Montreal.
NDP Leader Thomas Mulcair insists the party broke no rules. He told reporters Wednesday that the Commons knew that the employees were working in Montreal because the House of Commons was sending them cheques to their home addresses and had provided them with Blackberry phones with Montreal area codes.
Mulcair said the NDP wanted staff in the region and came up with a "creative" solution.
"We've done something creative... We've set them up in Montreal...They're doing such a good job that we're way ahead of the Liberals with respect to the majority of the population in Quebec," Mulcair said this week.
"And you know what? That's why the Liberals and the Conservatives are going after us on this one."
The NDP insists that since the board adopted a new rule this spring to forbid the offices from operating, this is proof that the party was allowed to have parliamentary staff working side-by-side with partisan staff in an office leased by the party.
The rules were respected "but those rules were changed," Mulcair said Wednesday.
The board, however, said it was adopting a new by-law as a cease-and-desist to stop the NDP from continuing with the satellite office while it investigated whether or not the party had broken the law.
Mulcair said the NDP debated internally whether it should charge the Commons for the office but in the end decided the party would pay for the office space to "remove any doubt whatsoever" that the arrangement was proper.
What do political opponents say?
Liberal and Conservative MPs suspect the NDP was using parliamentary resources to help fund the party's field operations. The Montreal office, where three party staff worked, was used to hold fundraising and election preparedness seminars, it was also used as the address for at least one riding association.
"It certainly appears there's been a misuse of taxpayer resources, I think that that's something that we deserve an answer [to]," Conservative MP Blake Richards told reporters Tuesday.
On Wednesday, Mulcair said he still planned to hire a staff person, paid by the Commons, in Saskatchewan where the party has no MPs and consequently no constituency work.
Tory MP Randy Hoback told HuffPost that Mulcair can hire staff but he should pay for it with the NDP's money.
"They're organizing partisan events, that's what he's talking about and the NDP should pay for it not taxpayers, that's pretty clear," he said.
Liberal National Director Jeremy Broadhurst told HuffPost the Grits have 10 field offices, from Vancouver to St. John's, Nfld., where staff support riding associations, candidates and are used as a regional organizing hubs.
"All expenses related to operations and staffing are fully paid for by LPC," he said. "No parliamentary resources or staff have anything to do with those offices."
Cory Hann, the spokesman for the Conservative Party of Canada, said the Tories have no offices funded by taxpayers but he refused to provide any details. The NDP's spokesman George Soule would only say the party has a paid office in Montreal. The Green Party said it has no satellite offices whatsoever. Party organizers outside Ottawa work from home, said Debra Eindiguer, chief of staff for Green Party leader Elizabeth May.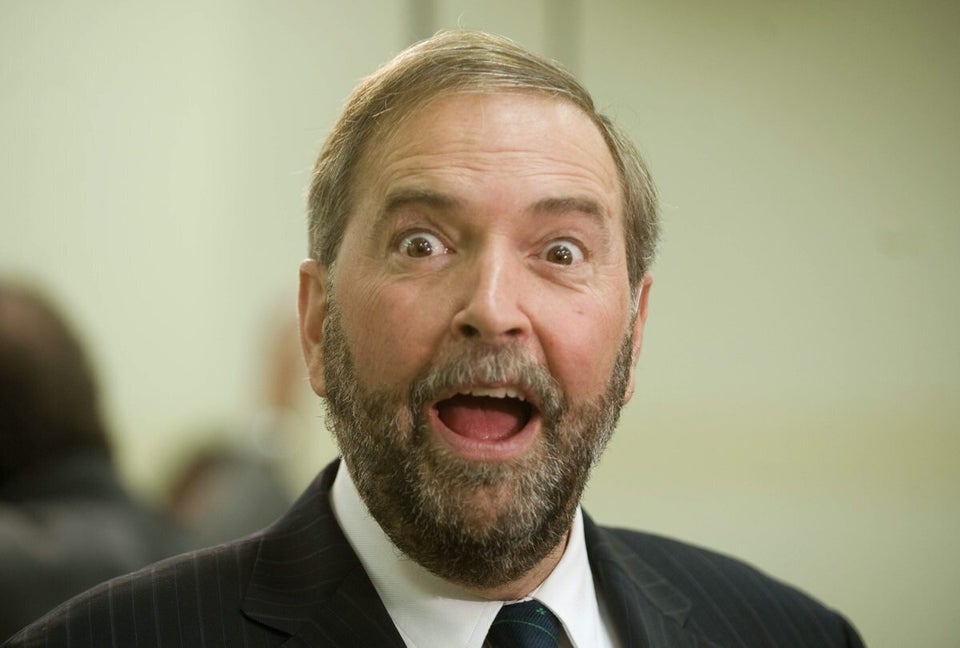 What Mulcair's Really Saying