NDP Leader Thomas Mulcair accused a CTV reporter of making things up during a particularly testy exchange Wednesday.
Mulcair will appear before a House committee on Thursday to defend his party's use of parliamentary resources to pay staff in an NDP "satellite" office in Montreal.
The NDP leader maintains his party has followed all rules. He said Wednesday that staffers are now working from their homes in Montreal and Quebec City, in line with a new rule adopted last month by the all-party Board of Internal Economy, which oversees administration of the House of Commons.
And Mulcair said the NDP still intends to hire another staffer to work in Saskatchewan, where the party has no MPs.
But in a potential preview of what's to come, the man sometimes derided by rivals as "Angry Tom" clearly took exception to some questions from veteran journalist Laurie Graham.
He even suggested Graham may want to get a dictionary.
In a three-minute clip posted to YouTube Wednesday, Graham can be heard saying she understands Mulcair believes the NDP didn't behave improperly and that the rules changed.
"Well, now you're admitting the rules changed," Mulcair says. "Ms. Graham, wonderful to hear you finally admit the rules changed."
Mulcair continues to speak over the reporter.
"Ms. Graham, when it says on a document that rules have now been amended. This just in — there is a dictionary and the word amended means 'changed.' They changed the rules, Ms. Graham. You might not like that but those rules were changed," he says.
"We respected the rules every step of the way. We were open, transparent every step of the way."
Mulcair says the party has done something "creative" by having employees in Montreal and suggests political rivals are bringing these issues to light because of the level of NDP support in Quebec.
"(Montreal staffers) are doing such a good job that we're way ahead of the Liberals with respect to the majority population of Quebec and, you know what, that's why the Liberals and Conservatives are going after us on this one," he says. "We've been clear from day one, you know that."
Mulcair then claims he showed Graham emails that prove his party has respected the rules.
"The fact that you choose not to report those emails is your choice, not mine," he says.
Graham then tries to ask about NDP mailouts sent during the Bourassa byelection in November.
In March, Liberals asked Elections Canada to investigate the flyers NDP MPs sent to residents in the Quebec riding, arguing they constituted election expenses. But Marc Mayrand, chief electoral officer, said in early April that as long as they were mailed before the byelections were called — as Mulcair insists — the NDP did nothing wrong.
But Liberal MP Marc Garneau told CTV News' Sonja Puzic Sunday that he believes Elections Canada is probing 1.8 million pieces of mail sent by New Democrats to determine if the party abused privileges allowing MPs to send postage-free material to constituents. Parliamentary resources are not to be used for electoral campaigning.
In the clip, Graham asks why the NDP is being investigated by Elections Canada.
"That is a complete fabrication. You just made that up," Mulcair replies. "There's no investigation and Elections Canada has already issued a report."
"So Elections Canada is not looking into the mailouts at all now?" Graham asks.
"The only person who said that was a Liberal over the weekend who claimed that there was something. Elections Canada has already given that result," Mulcair says. "I'll give you the letter again because I know we've already given it to you once. And again the fact that you choose not to report it is your choice."
Some journalists took to Twitter to weigh in on the exchange.
With files from The Canadian Press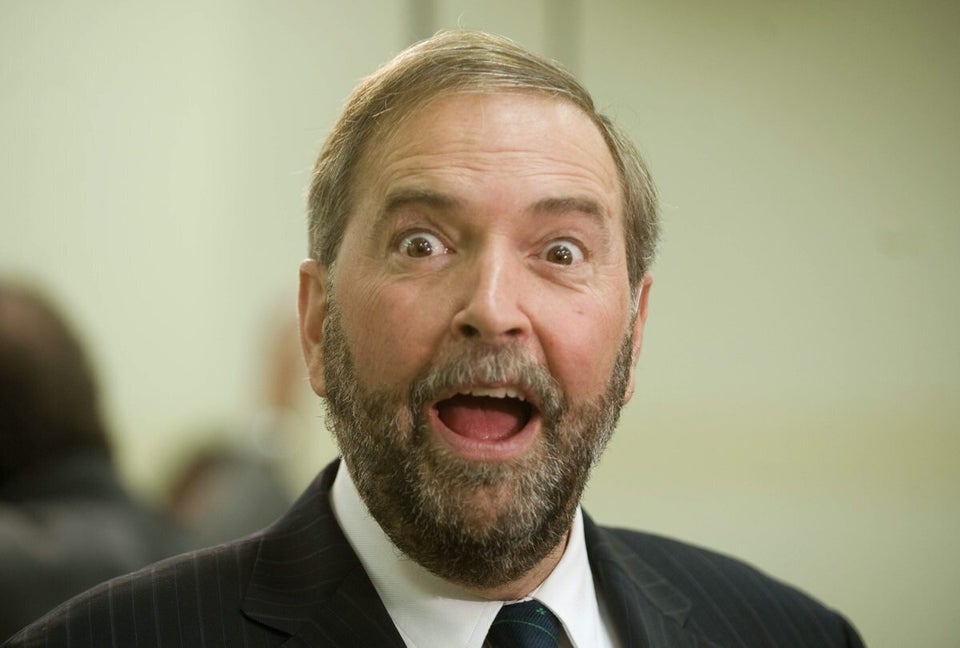 What Mulcair's Really Saying