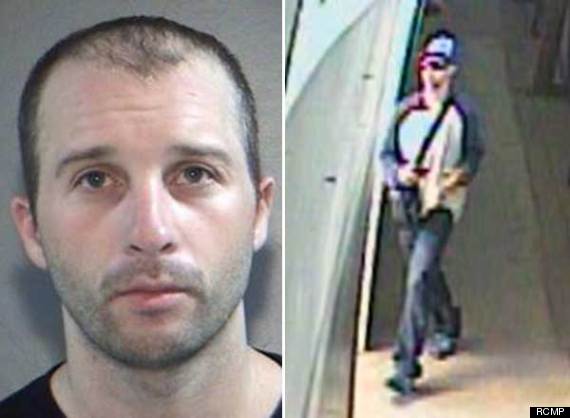 UPDATE - May 20, 2014: The RCMP released surveillance images of Barry McQuarrie in Aldergrove, B.C. Investigators said he used a pay phone there on Sunday, and believe he's still in the Lower Mainland.
A suspect in the shooting death of a B.C. man reportedly called RCMP and a TV station to say he has no intention of turning himself in.
Gregory Quesnelle, 32, was found dead last week in what investigators believe was a targeted attack related to an ongoing dispute.
Barry McQuarrie, 33, has not been charged in relation to Quesnelle's slaying but is wanted on several unrelated warrants. He should be considered armed and dangerous, said the Integrated Homicide Investigation Team (IHIT) last week.
McQuarrie called the CTV Vancouver newsroom on the weekend, reported the station. He denied being armed and dangerous.
"This is a cat and mouse game. I'm not handing myself in to the cops because I'm not getting myself out when I get arrested. So they have to do their job and find me," said McQuarrie, according to CTV. "I want to enjoy the summer as much as I can. When the time comes after the summer is over, maybe I might hand myself in. If I make it that long."
CTV says McQuarrie also phoned RCMP on Saturday night, but police would not comment on that report.
Investigators believe the CTV phone call was authentic, reported The Province.
The best way to ensure the safety of the public, police and the suspect himself is to turn himself in, IHIT spokesman Sgt. Adam MacIntosh told the newspaper. He also stressed McQuarrie should still be considered armed and dangerous.
He's believed to be still in B.C.'s Lower Mainland, and driving a 2008 Toyota Highlander with B.C. licence plate 338 JNP.
Also on HuffPost
Vancouver Police Cold Cases