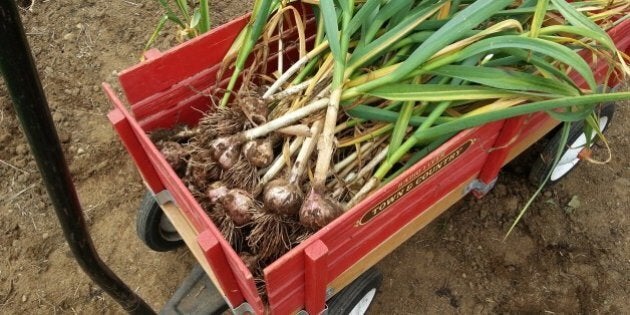 If you're ready to take the next step with your love affair with produce, then the best place to start is by growing your own garlic.
The plant, which is part of the onion family, is probably best known for its use in Italian cooking, but really, it can be found in any number of dishes (and in our opinion, only improves them).
Garlic is great "learning" plant for newbie gardeners because it can grow in almost any climate, and planting it is almost as simple as buying a bulb from your favourite farmers' market and planting it in the ground.
Of course, it's not just the taste that draws us back to garlic again and again — the plant also has tons of health benefits, including immune system boosting and athlete's foot fighting.
And though it seems like there's tons of garlic available now, before you get too excited about your newfound status as a backyard farmer, be warned, this is a crop that gets planted in the fall. Until then, you might want to look into tomatoes.
Here are the steps you need to follow in order to grow garlic: