Canadians rank among the world's fattest people, but the rate at which waistlines are expanding has been slowing in recent years.
So says a report by the Organization for Economic Co-operation and Development (OECD), which found most people in member countries are considered overweight or obese.
And while Canada is one of three countries where overweight and obesity rates have grown modestly over the past decade, the number of obese among its over-15 population (25.4 per cent) is still well above the OECD average of 18 per cent, ranking only behind the United States, Mexico, New Zealand, Hungary and Australia.
Severe obesity can kill people eight to 10 years faster than those who register a normal weight and can also lead to rising health care costs, the report noted.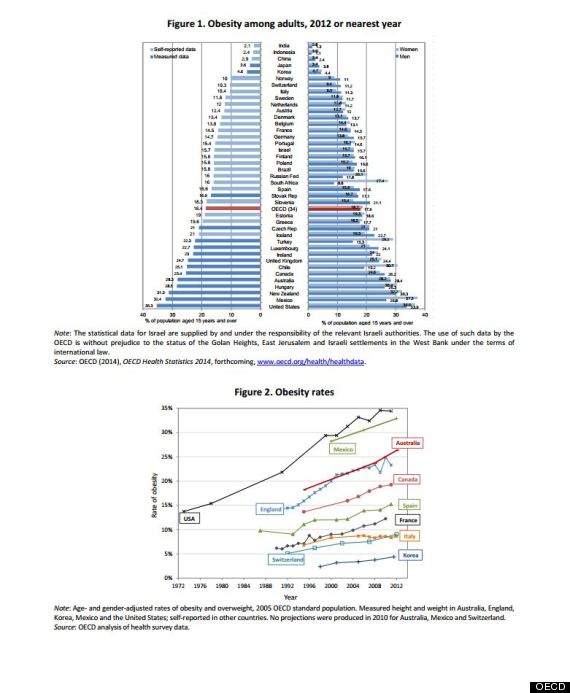 Among Canadian men, 26.2 per cent are considered obese, compared with 24.6 per cent of women. Weight is proving to be a similar issue among Canadian children: 25 per cent of boys and 24 per cent of girls are overweight or obese.
The OECD drew a link between weight gain and the recession, saying, "the evidence of a possible impact of the economic crisis on obesity points rather consistently to a likely increase in body weight and obesity."
It stated that families have been forced to cut their food budgets since 2008, leading them to "lower-priced and less healthy foods."
In the U.K., for example, families cut their food budgets by approximately 8.5 per cent as the economic slowdown hit in 2008 and 2009. The average caloric density of purchased foods increased by 4.8 per cent, meaning people were consuming an extra 0.27 grams of sugar, 0.08 grams of saturated fat and 0.11 grams of protein per 100 grams of food they bought.
A similar trend was observed in the United States:
Fruit and vegetable consumption was inversely related with unemployment in the United States, in the period 2007-09, the effect was three times stronger in disadvantaged social groups at higher risk of unemployment (corresponding to a 5.6 per cent decrease in fruit and vegetable consumption for each one per cent increase in state-level unemployment).
Families tend to eat fewer fruits and veggies when budgets are tight because they're the "more expensive and perishable items that people can avoid," David Lau, a professor of medicine at the University of Calgary, told CTV News.
The OECD report painted a more serious picture than another produced by the Fraser Institute last month.
"Obesity in Canada: Overstated Problems, Misguided Policy Solutions" found that, when not considering obese people (BMI of 30 or greater), the number of overweight Canadians stayed relatively stable at 34.1 per cent from 2003 to 2012.
However, when obesity was considered in isolation, the number of obese men grew from 16 per cent in 2003 to 19.8 per cent in 2011, while among women, the rate increased from 14.5 to 16.8 per cent, according to Statistics Canada.
Like this article? Follow our Facebook pageOr follow us on TwitterFollow @HuffpostCaLiv
Facts About Childhood Obesity