When was the last time you spent more than one minute digesting the grace and magnitude of a shipyard crane? Despite the fact that they can lift up to 200 tons and have lifespans of over 200 years, our answer was unfortunately not recently. A glorious project by Skira, a Croatian architectural lighting design studio, recently transformed the industrial machinery into a hypnotic metal ballet thanks to the power of light. To take it all in, one second isn't nearly enough.
For the seaside Croatian city of Pula, the shipyard cranes, though staples of the landscape, were not often acknowledged for their beauty and elegance. Led by light designer Dean Skira, the Skira team positioned the metal giants to resemble folded paper cranes formed through the gentle art of origami, with their elongated shape and sleek angles. The piece, titled "Lighting Giants," shows the eternal grace of these most unwieldy metal beasts.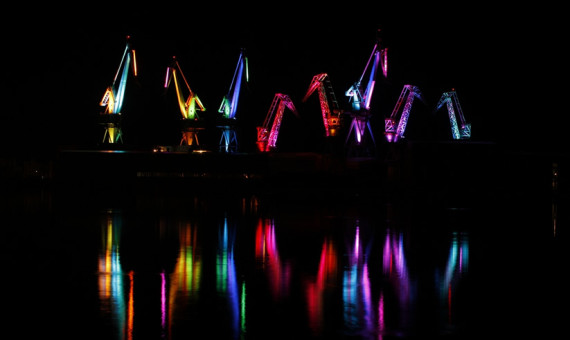 "The industrial revolution in the early 19th century has brought us some new 'monuments' which still stand and move every day in the gentle dance of steel, helping to create some of the greatest commercial ships ever built," Skira explained of the installation. "This dance is going on for almost 200 years and I wanted to create a colorful stage in which they perform. Becoming key players in this theatre, among tons of raw steel, light and color, we created a different role for those cranes as they move in slow motion for decades without ever being tired."
The visual event took place earlier this month at the Visualia Festival located in the Croatian city of Pula. Every hour for 15 minutes, a light installation led by a remote control would drench the majestic cranes in vibrant hues of LED lights. Over 16,000 different color combinations emerge throughout the course of the the visual symphony, all choreographed to illuminate the fantastical powers of these gentle machines.
See stills of the metal dance below and let us know your thoughts in the comments.