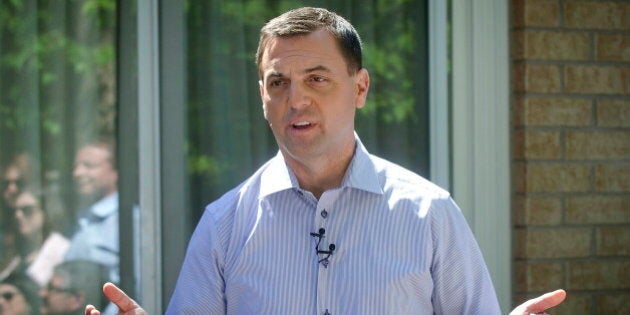 Tim Hudak is facing ridicule for what some economists say is a massive miscalculation at the core of his signature "Million Jobs Plan."
The PC leader was put on the defensive Wednesday after Western University economist Mike Moffatt and others penned columns questioning the math behind the PC plan to bring a million private sector jobs to Ontario in eight years.
The Tories are believed to have based their platform on misinterpreted information from a report they commissioned from the Conference Board of Canada.
The report, which analyses the impact of reducing corporate and personal taxes, uses the term "person years of employment" in its projections, which some economists suggest the Tories have confused with permanent jobs.
Moffatt told The Canadian Press it appears the Tories counted a person working in a single job over eight years as a separate job for every year of their plan.
"Most of their numbers are eight times multiplied," he said. "This in no way can be considered a million jobs plan...It's clear that the Tories misinterpreted these reports."
Tories have already conceded that half of the million jobs promised would most likely be created anyway if the policies of the last 10 years continue, regardless of which party is in power.
In a column for Maclean's, Western University professor Paul Boothe, a former federal associate deputy minister of finance, said the PC arithmetic just didn't add up.
Boothe wrote that it was "clear" Tories confused person-years of employment with permanent jobs.
"The result was that the half million jobs the Progressive Conservatives were promising to create with their plan (base-case economic growth was expected to provide the other half-million jobs) was really only about 75,000—fewer than the 100,000 public-sector jobs they were pledging to eliminate," he wrote.
"I stand behind our numbers," he said. "I simply believe that permanent tax reductions on job creators, more affordable energy is going to create jobs."
Still, the notion that Hudak's team wrongly multiplied their projections by eight was enough to spark a #Hudak8 hashtag on Twitter that was trending by Thursday morning.
The joke — simple enough — is that everything is multiplied by eight or not quite right, mathematically, in Hudak's world.
Both Liberal Leader Kathleen Wynne and NDP Leader Andrea Horwath have been quick to make political hay out of the suggestion Hudak got his math incorrect.
"It's exceedingly rare for a platform to be revealed as a complete and utter fiction because the leader got the math wrong," Wynne said Wednesday. "So that's actually what we're dealing with right now."
Check out the slideshow below for some of the funniest #Hudak8 tweets.
Ontario voters head to the polls on June 12.
With files from The Canadian Press