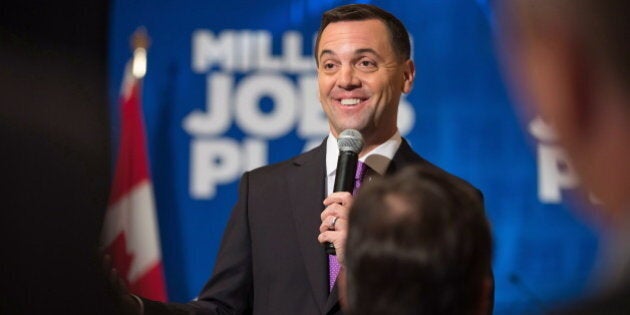 After economists poked holes in his "Million Jobs Plan" by saying the heart of the platform was based on a mathematical miscalculation, Ontario PC Leader Tim Hudak was essentially left with two options.
He could agree a misinterpretation of a report by the Conference Board of Canada meant his party erroneously multiplied some of his projected job numbers by as much as eight, as several economists said this week.
Or, he could dig in, stand by the figures, and raise the possibility the economists got it wrong.
Hudak is going with the latter route.
"It can really be hard to admit when you've made a mistake, but it's the right thing to do," she said. "That's what we tell our kids and it's what I say to Tim Hudak today."
But Hudak was unmoved, insisting his plan to create one million private sector jobs in eight years is sound.
Hudak, who has a master's degree in economics, sat down for an editorial board meeting with The Globe and Mail Thursday. Unsurprisingly, he was asked about the controversy.
"You could line up all the economists in Canada head to toe, and they still would never reach a conclusion," he said. "There is going to be a debate, no doubt, about the scope."
The Conference Board report, which analyses the impact of reducing corporate and personal taxes, uses the term "person years of employment" — the amount of people who would have work for one year — in its projections. Some economists say the PCs have confused that term with permanent jobs, vastly inflating their projections.
Economist Mike Moffatt told The Canadian Press it appears the Tories counted a person working in a single job over eight years as a separate job for every year of their plan.
Hudak told The Globe he was not counting some jobs eight times but, according to Morrow's report, dodged a question on why he evidently thought permanent jobs and person years of employment were the same thing.
Globe columnist Adam Radwanski wrote that while there really is "no good response to the revelation," Hudak's decision not to own up to a "laughable math error" could hurt him, especially in next week's leader's debate.
"Mr. Hudak could spend most of that debate passionately making the case for his vision of a smaller, more efficient government, only to undermine himself when talk turns to the pledge after which he named his platform," he wrote.
Meanwhile, many continue to poke fun at the PC leader on Twitter with the hashtag — #Hudak8 — suggesting everything is multiplied by eight in Hudak's world.
"Tim Hudak's a busy man. He's campaigning 192/56," wrote one.
But Hudak is not the only one whose math is being called into question.
National Post columnist Scott Stinson zeroed in this week on Wynne's vow to eliminate the provincial deficit — estimated to be at $12.5 billion — by 2017-18, while also vowing not to make major cuts to services or fire public sector employees. (Hudak has controversially pledged to eliminate 100,000 public sector jobs in the first term of a PC government).
"The deficit, which was $14-billion in 2010, is $12.5-billion this year. The Liberals say it will be gone by 2017-18," Stinson wrote. "So, having reduced it by $1.5-billion in total over four years, they will now chop it by $12.5-billion over three."
Stinson wrote it was amazing Wynne's "nonsense" appears to be working with voters.
And, on Friday, The Canadian Press' Steve Rennie concluded that NDP Leader Andrea Horwath's promise to find $600 million in savings if she formed government was full of "a lot of baloney."
Ontario voters head to the polls on June 12.
With files from The Canadian Press