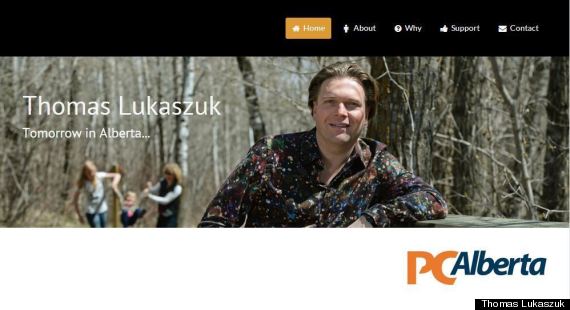 Former federal minister Jim Prentice may be the front-runner in the race to lead Alberta's Conservatives, but does he have anything in his closet that could compete with opponent Thomas Lukaszuk?
MLA Lukaszuk, who entered the leadership race last week, wears a stunning shirt on the front page of his website. The paint-splotch patterned top looks like it could have been designed by Jackson Pollock. Or a child. A talented child.
The shirt became fodder for mockery among Twitter users who follow Alberta politics on Tuesday.
This is all I can see when I look at Thomas Lukaszuk's #pcldr website. #ableg #cdnpoli pic.twitter.com/8S18fPBrdr

— Paul Fairie (@paulisci) June 3, 2014
Was he paint-balling? RT @paulisci: This is all I can see when I look at Thomas Lukaszuk's #pcldr website. #ableg pic.twitter.com/HNTSt8ROCg

— Derek Fildebrandt (@Dfildebrandt) June 3, 2014
I for one, welcome our new Shirt Overlords. @SUNBreakenridge @paulisci: pic.twitter.com/HNTSt8ROCg #ableg #abpoli

— Derek Fildebrandt (@Dfildebrandt) June 3, 2014
I don't know how any #pcldr candidate hopes to defeat this shirt. http://t.co/c0NPDsd8tL @LukaszukMLA

— Jen Gerson (@jengerson) June 3, 2014
Whatever Interwebz. @LukaszukMLA's shirt is awesome. I got your back brother. http://t.co/4VljOi81qI

— Dónal O'Beirne (@DonoYEG) June 3, 2014
Like this article? Follow our Facebook pageOr follow us on TwitterFollow @HuffPostAlberta
Also on HuffPost
'House of Cards': Alberta Government Edition