A man says the Moncton gunman spoke to him just after shooting an RCMP officer on Wednesday.
In an interview with local radio station 104.9 Max, witness Jason Cyrus said he was enjoying a pool party with friend and fireman Tim Daley and their families when they heard what sounded like fireworks going off.
UPDATE: Justin Bourque was arrested early Friday by Moncton police. Read updates here.
Cyrus said Daley then popped his head over the fence that stood "literally three feet from the first shooting."
Daley then spoke with the gunman, who he thought was part of the search operation. Police have identified the shooter as 24-year-old Justin Bourque.
"My buddy Tim popped his head over the fence and he said 'What's going on brother?' And Tim thought, honestly, he was part of the people that were looking for this guy, but it was actually him," Cyrus said.
"He had both rifles over the shoulders, tons of ammunition on him and he said 'What the F do you think is going on?' and then he [Tim] says 'Should we be in the house?' and he [Bourque] says 'Yes. Get in your home.'
In another interview with Sun News, Cyrus said the encounter gave him the impression that Bourque was only targeting police officers.
Another shooting witness, Vanessa Bernatchez, told the Los Angeles Times that she saw a bystander attempt to help a wounded RCMP officer only to see the shooter warn the person away.
Bernatchez said the gunman did not point his weapon at the bystander or fire any shots.
RCMP are searching for Bourque. A Facebook page under the same name contains many anti-police and pro-gun posts. The profile picture on the page shows two men holding shotguns behind a pile of shell casings.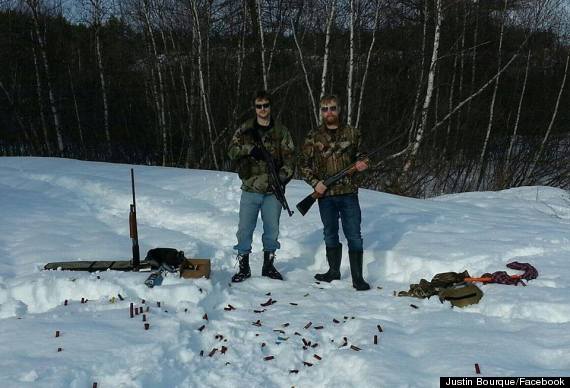 Friends and former co-workers have painted a picture of Bourque as a man obsessed with firearms.
Former Walmart co-worker Caitlin Issac told Business Insider Bourque took a rifle with him on a camping trip with some employees and kept it with him the entire night while he drank. She said he was not invited camping again.
The manhunt for Bourque continues. Police are looking for him in connection with a mass shooting that killed three RCMP officers and wounded two others.