CP/HuffPost
The Toronto Sun sparked controversy Thursday with a controversial cartoon mocking Ontario Liberal Leader Kathleen Wynne.
The illustration by longtime Sun cartoonist Andy Donato — showing broken glasses, bloody teeth and a Wynne pin — ran just two days after the provincial leaders' debate.
Polls from both Ipsos and Forum Research suggest PC Leader Tim Hudak was seen as the night's winner.
While it's not clear if the illustration was making a point about the debate, it nonetheless left more than a few people with the impression the newspaper was making light of violence against women.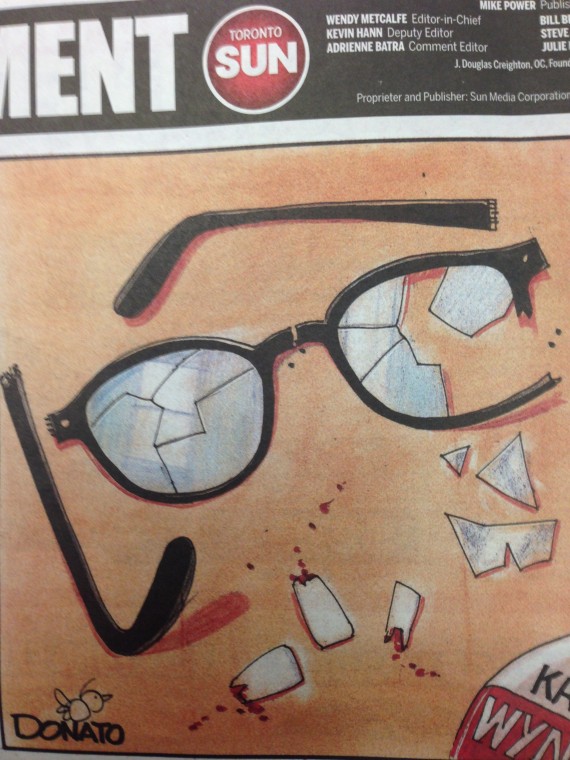 Many took to Twitter to deride the cartoon as unacceptable and demand an apology from the newspaper.
Shame on you, Toronto Sun. I'm shaking, I'm so upset by that odious, violent, unacceptable, inapporpriate cartoon.

— Mary Lynn Smith (@MaryLynn_Smith) June 5, 2014
Hey, Toronto Sun: your revolting cartoon is completely unacceptable and I ask that you apologize to @Kathleen_Wynne immediately. #onpoli

— Robin Marwick (@electricland) June 5, 2014
Toronto Sun published cartoon today promoting violence towards #onpoli's female premier. Really. Um. http://t.co/JNXdkipS88 #cdnpoli #voteon

— Diamond Isinger (@diamondisinger) June 5, 2014
Advocating violence towards a politician is wrong. The implied threat of

#VAW in Toronto Sun cartoon is even worse, @WendyM_TorSun.

— heather (@LadySnarksalot) June 5, 2014
Supporters of ALL political parties should join in denouncing the Toronto Sun editorial cartoon about Kathleen Wynne. It is offensive.

— Cory Judson (@CoryJudson) June 5, 2014
Toronto Sun cartoon makes fun of brutal violence depicted against @Kathleen_Wynne http://t.co/cfKYqcb8ue #onpoli #violenceagainstwomen

— Matt Guerin (@mattfguerin) June 5, 2014
The Toronto Sun's cartoon for today is not okay on so many levels http://t.co/gNeYNUlVHc

— Lauren Strapagiel (@laurenstrapa) June 5, 2014
Yes, the cartoon is tasteless, but don't act so surprised. It's the Toronto Sun, after all. We expect nothing more. http://t.co/oFKqS3E2ML

— Toronto Mike (@torontomike) June 5, 2014
Donato's Sun cartoon, depicting Wynne's glasses and teeth knocked out, is… well, revolting.

— Ivor Tossell (@ivortossell) June 5, 2014
But at least one person wondered if there would be such outrage if Hudak was on the receiving end of the insult instead.
Guarantee if it was Hudak themed in the Toronto Sun cartoon there wouldn't be such an uproar. Not that I support it, just an observation.

— Zach Bussey (@zachbussey) June 5, 2014
Do you think this cartoon crosses the line?
Tell us in the comments (and please keep the conversation respectful).