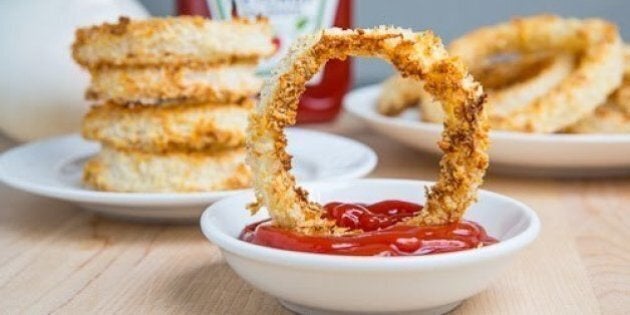 It may be the vegetable that makes people cry, but there's nothing to cry about when it comes to the health benefits of onions. This veggie has been linked to lowering the risk of prostate cancer (just like garlic), detoxifying the body and is a great source of vitamin C.
A staple ingredient in most cuisines, the most popular cooked onions are white and red. You can also cook with yellow onions, pearl onions, shallots, and of course, chives and leeks, which are from the same family. If you're cooking with onions, it can get pretty easy to slice them incorrectly. For the best even pieces (and few tears), cut the strips in one direction and rotate the onion in your hands.
Here's what you need to buy this week, while the other necessary ingredients (like pepper, salt and oils) are likely already in your kitchen.
Onions
Red onions
Flour
Guinness Draught Beer
Bread crumbs
Herbs
Beef broth
Soy sauce
Mint
Lemon
White bread
Capers
Parsley
Cream cheese
Mayonnaise
Parmesan cheese
Sweet onion
Vegetables
Tomatoes
Monday: Crock Pot Guinness French Onion Soup & Irish Cheddar Crouton
Tuesday: Crispy Onion Rings
Wednesday: Parsley And Onion Salad
Thursday: Sweet Onion "Crack" Dip
Friday: Grilled Vegetable Kabob