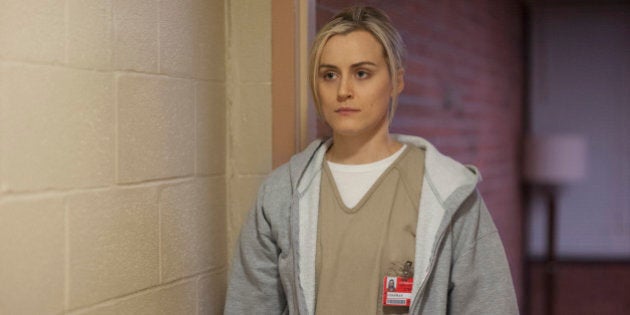 WARNING: Contains spoilers. Please do not read on unless you've seen Season 2, Episode 1 of "Orange Is The New Black," titled "Thirsty Bird." (Unless you like spoilers, then go right ahead!)
The first season of "Orange Is The New Black" was such a beautiful anomaly. Just like the characters who constitute the show, the Netflix original series itself was (and still is) a misfit. An entire series dedicated to women in prison? Eight-to-one women-to-men ratio on the cast? Unheard of. Blatant sexuality (barely ever hetero) blended with dark comedy mixed with social commentary, all while telling separate stories of remarkable women and their struggles? Never seen before. And the diversity? "OITNB" wins that prize.
So as I watched the Season 2 premiere, imagine my surprise when the jovial "OITNB" feeling was replaced by a gnawing churn in the pit of my stomach. I had anticipated that the premiere would be like a visit to old friends, that back within the walls of Litchfield there'd be Taystee (Danielle Brooks) dancing, Red (Kate Mulgrew) bossing people around and Piper (Taylor Schilling) making a mess of things. Well, the latter isn't far off, but no. We don't even see Litchfield, or at least, not the Litchfield we've come to know. We follow Piper as she's relocated to Chicago's Metro Detention Center, awaiting trial.
I'm not sure if the episode is meant to depict Piper's punishment after years of selfish, immature behaviour, or if the showrunners sought to show a more "real" prison experience (the Metro prison is absolutely nightmarish), or maybe this is just what happened to real-life Piper Kerman; in any event, the Season 2 premiere is dark and often relentless. There is no light for Piper, and it's evident from the moment Alex (Laura Prepon) appears onscreen that she's somehow going to screw Piper -- and not in the good way. The fact that Piper trusts Alex, even for a second, is so frustrating it covers the episode in an anxiety blanket. You know Alex is going to betray her, you wait agonizingly for it to happen, and then when it does it's doubly infuriating. (My HuffPost TV colleague, Mo Ryan, seemed to enjoy the premiere more than I did -- here's her review.)
This premiere was directed by the legendary Jodie Foster, so I was anticipating great things, but "Thirsty Bird" is, to put it in the simplest term, ugly. The new characters, the dialogue, the way the inmates treat each other -- all are harsh and difficult to stomach. I'm not denying that this is what real-life prison is like, and Piper thus far has had a semi-easy ride, but one of the best things about "OITNB" is its ability to temper the rough edges with humour and a below-the-surface softness. Here, the ugliness is laid bare.
Structurally, Foster tries to temper the mood with flashbacks to Piper's childhood. While poignant and interesting, it's more of the same vibe -- ugliness and suffering. Piper on the school bus, ostracized, Piper witnessing her father cheating, Piper nervously telling her mother about it and then being grounded for telling, Piper being forced to live with her secrets, Piper cavorting with drug dealers and then lying about it to her father. Each memory is heartbreaking and painful. The worst part is, after all the memories are relived, there's no greater sympathy for Piper. She's like the rest of us -- a product of our experiences -- and that is no justification for stupid life decisions. Just because a childhood friend of mine broke my baby finger on the school bus doesn't mean, as an adult, I can go and break people's fingers.
On top of the peppered flashbacks, the first half of the episode is spent travelling by bus and plane to the mystery location. We experience the anxiety right along with Piper, not knowing what's going to happen. Where am I going? Will I be OK? I'm pretty sure my blood pressure was rising as the episode progressed, and Piper's plane monologue to Lori Petty's character was heart-wrenching. The perfect, crushing cap to the first half.
And that's another thing. As a Lori Petty fan, I was excited to see her character. But just like the rest of the episode, there's an indescribable dissatisfaction with the new characters in the Metro jail. While the Litchfield inmates all have their "quirks" (for lack of a better word), the Metro inmates are almost unbearable. The one obsessed with moon cycles is downright scary. The women are dark, without compassion; even Miss Claudette was more forgiving of Piper and she was a tyrant! Cockroaches, talk of pads as diapers, the cellmate s**tting (grunts and all) while talking to Piper, and the male inmates' violent innuendo all left me with an unsettled feeling.
But maybe I'm wrong about all of this. Maybe Jenji Kohan and Foster had this all planned out for effect. The reality is yes, prison is a horrible place, and up until now they've been playing with kid gloves. There's no fun in jail, just like there's no crying in baseball. The premiere of "OITNB" Season 2 may have been crafted this way deliberately, to rake us over the coals, to make us realize what a plum deal Piper had at Litchfield.
Interestingly, the other recent big Netflix show, "House Of Cards," stayed on-course and delivered one of its best-ever episodes for its Season 2 premiere. It came out swinging and made it absolutely impossible not to watch the rest of the season. With "OITNB," however, that first episode would be enough for me to stop watching if I didn't love Season 1 so much. It's simply not pleasurable to watch a character endlessly flail and fail, and then have other cast members suffer because of her poor decision-making. Here's hoping that the rest of Season 2 is a return to the tried-and-true formula: misfits finding purpose in life, rather than simply suffering for viewers' entertainment.
Addendum:I had to watch Episode 2, just to see if this darkness continued. I'm happy to report that Episode 2 returns to the same vibe as Season 1, with more comedy and lightness. Sure, sad and upsetting things happen in the episode, but it's successfully shown in that classic "OITNB" fashion. Whew.
"Orange Is The New Black" Season 2 is now streaming on Netflix.