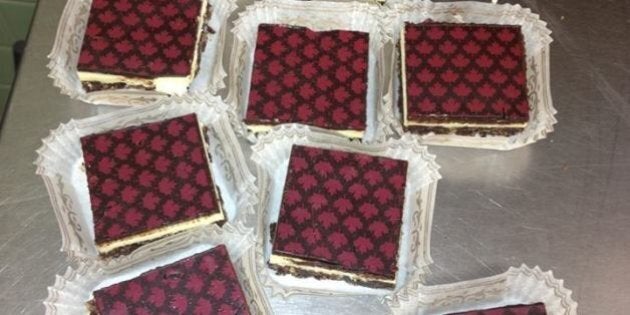 Tim Hortons may want to steer clear of Washington, D.C. as it makes inroads down south; a former journalist may have the market for Canadian baked goods already wrapped up.
Donna Marie Artuso calls herself the "Head Canadian" at Canadian Sweets and Treats, a bakery that specializes in delicacies from the Great White North.
There, in the capital, you'll find goodies such as maple walnut fudge and tarte au sucre (sugar pie), sweets you might not otherwise find in the United States.
Artuso, who was Sun Media's Washington correspondent from 1987 to 1999, moved to the city in 1999 after taking a one-year sabbatical in Italian cooking schools, The Toronto Star reported.
The idea for the bakery arose out of a conversation with some U.S. friends about the best desserts of all time. An American asked, "What's a butter tart?"
"After that question, I knew that not only was I going to open a bakery, but I already knew the product line," Artuso told the newspaper.
"Within hours of that conversation, I was going through maple recipes. I have dozens of recipes using maple syrup."
Though she had a concept ready, she still needed a chef.
So it was fate that she met a neighbour, Sona Karnik, who had just moved from Pennsylvania where she ran a bakery of her own, The Globe and Mail reported in 2011.
From their first chat, Artuso learned she was a pastry chef and they set right to talking about opening a business together.
The bakery opened in 2010 and tapped into a community of expatriate Canadians living in Washington.
Butter tarts and Nanaimo bars soon became its biggest hits. Former ambassador to Canada David Wilkins would order the bars any time he had people visiting from the Great White North.
The Canadian Embassy is her biggest client. Members of the Washington Capitals hockey team, whose roster currently has 13 Canadian players, frequent the bakery. The Canadian American Business Council calls Artuso its official pastry chef, according to the Star.
Canadian Sweets and Treats boasts the slogan, "The Only Canadian Bakery in the U.S., Eh?"
It's tough to say whether that's true. But given how popular Canadian dishes (read: poutine) are becoming across the U.S., there's no doubt she's on to something.
And for Canadians who work in the heart of our big neighbour down south, Artuso is also giving them a sweet taste of home.
Check out some of the baked goods offered by Canadian Sweets and Treats in Washington, D.C.: