 Early Friday morning Neil Young announced the dates for his annual Bridge School Benefit concerts in October, but in the evening some strange tweets showed up on the singer's Twitter account, including one of what appeared to be a bare-breasted Miley Cyrus.
Hackers posted several tweets on Young's account. One stated: "Short girls looks perfect doing this kind of job :)" with a link to a non-pornographic search engine. Another tweet read: "98% of girls get turned on when guys do this for them" with another link to the same search engine. According to the search engine's site it "gives free, real-time answers to any questions" both online as well as through mobile apps.
A subsequent tweet asked "How's everyone's night?" before a follow-up tweet was sent out containing a smiley face emoticon. The tweets got the attention of some people online.
The URLs for the hacked tweets were later removed and Young addressed the issue himself just before midnight.
But that was only the beginning. The account was hacked into for a second time with far more lurid tweets and images popping up. Here's a screen grab of some of them.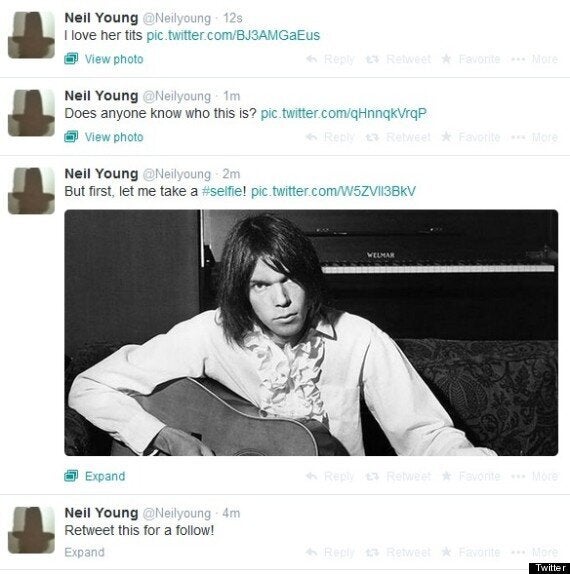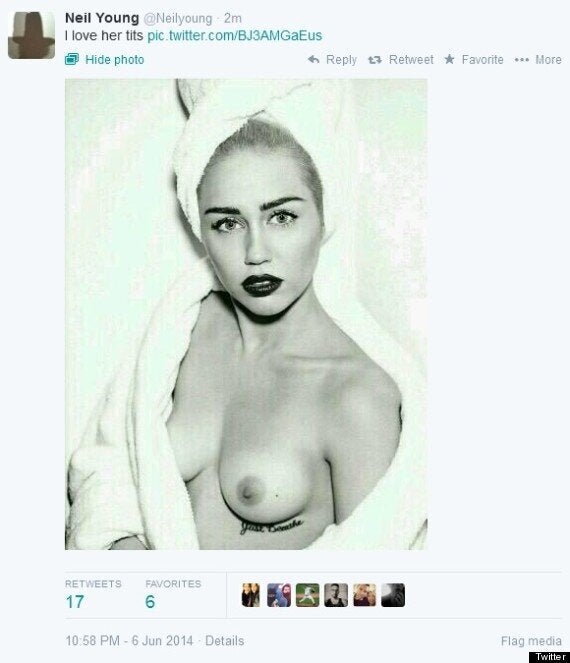 Then a slew of additional tweets appeared with the hashtag #neilslayed before the hacker changed Young's profile photo and name to something else.
The hacker then began retweeting more images before stopping about 10 minutes after midnight Eastern time. Around 12:30 a.m. Saturday morning Young's official account would not appear, suggesting support staff finally was able to stop the hackers. But it didn't prevent people from tweeting their reactions, which ranged from anger to bewilderment: