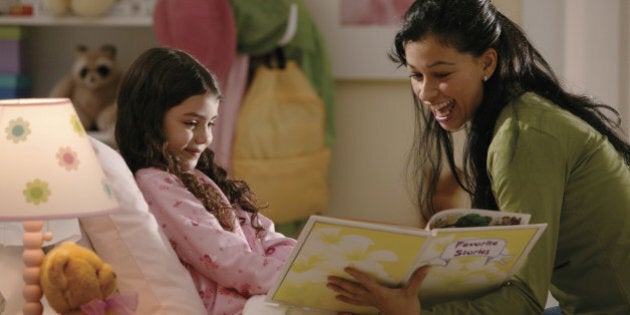 If you've made the excellent choice to read bedtime stories to your children (a habit that will improve their literacy, by the way), we salute you. But the golden bedtime story standards of your childhood haven't vanished into thin air, so why not introduce them to your kids? They may end up loving the adventure and excitement just as much as you did. Check out our list of the best Canadian bedtime stories, and have fun introducing your kids to the classics!
The Stanley Series by Linda Bailey
Stanley the dog likes adventures. Whether it's hosting the best doggone party when his people are out, racing down a hill in a wheeled thing, or going to adventures on a little red boat, this dog's adventures will charm your children. They may ask why their pet doesn't throw parties though, so be prepared for that.
Alligator Pie by Dennis Lee
Dennis Lee has written several beloved children's books, but Alligator Pie will always be his true classic. "Alligator Pie, Alligator Pie. If I don't get some, I think I might die. Give away the green grass, give away the sky…" You know how it ends. This book was written 40 years ago and is still beloved by the young and the young-at-heart.
Goodnight Toronto by Adam Gamble
You've heard of Goodnight Moon, the classic tale of a rabbit saying goodnight to everything he can see. Now there's Goodnight Toronto, where two children tell their favourite Toronto places, like Riverdale Farm and the CN Tower, goodnight. What more can a city-dwelling parent ask for?
Goodnight Canada by Andrea Beck
Well, how about a book that lets children say goodnight to an entire country? In this Canuck lullaby, a child living in Newfoundland wonders about all the children who live in Canada and around the world. He wishes all of them goodnight. Not only does it get your children ready for bed, but it teaches them about Canada and the world.
Anne of Green Gables by L.M. Montgomery
Your older children will love the first book in the classic Canadian series about red-headed Anne and her adventures on Prince Edward Island. Her first day of school, her longing for a dress with big sleeves, and the power of her imagination; all of these are tales that will make your children beg for you to read just one more chapter.
SkySisters by Jan Bourdeau Waboose
Two sisters set off on a journey across the frozen North to see the SkySpirits' midnight dance. The younger sister finds it hard to be silent, but the journey teaches her how to treasure the peace and stillness and the girls grow closer. At the end of the journey, the sisters are rewarded with one of the most beautiful sights in the sky: the SkySpirits, AKA the northern lights.
Dennis Lee once said that the best way to keep children interested in reading is to read to your kids. He recommended letting your kids pick out their favourite book and curl with them at bedtime and read. We think that's great advice!
These are just a few of the classics. What was your favourite bedtime story growing up and what stories do your children love?