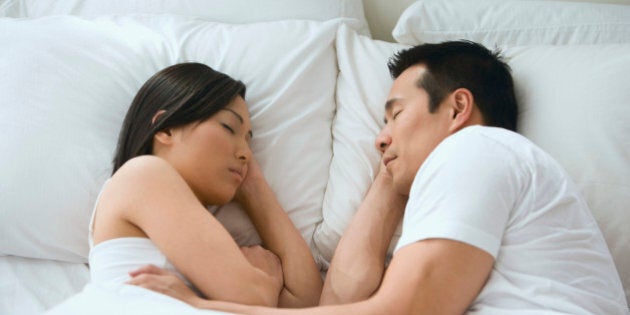 Whether or not a couple is able to synchronize sleep patterns may be linked to a wife's satisfaction with the marriage, according to a small new study.
"Most of what is known about sleep comes from studying it at the individual level; however, for most adults, sleep is a shared behavior between bed partners," said lead author Heather Gunn, PhD, postdoctoral scholar at the University of Pittsburgh. "How couples sleep together may influence and be influenced by their relationship functioning."
Researchers tracked the sleep patterns of 46 couples over a 10-day period. Each participant was asked to assess their relationship.
Results say that couples were awake or asleep together an average of 75 per cent of the time, and that number increased with the wives' level of satisfaction.
"The sleep of married couples is more in sync on a minute-by-minute basis than the sleep of random individuals," said Gunn.
"This suggests that our sleep patterns are regulated not only by when we sleep, but also by with whom we sleep."
The following year, Troxel embarked on new research which concluded that negative interactions in couples were more likely to occur as a result of poor sleep on the part of the woman rather than the man.
"We found that wives' sleep problems affect her own and her spouse's marital functioning the next day, and these effects were independent of depressive symptoms," said Troxel. "Specifically, wives who took longer to fall asleep the night before reported poorer marital functioning the next day, and so did their husbands."
For both Gunn's study and Troxel's 2011 study, the research abstracts were published in an online supplement of the journal Sleep.
Gunn's study was presented June 4 in Minneapolis, Minnesota, at SLEEP 2014, the 28th annual meeting of the Associated Professional Sleep Societies LLC.