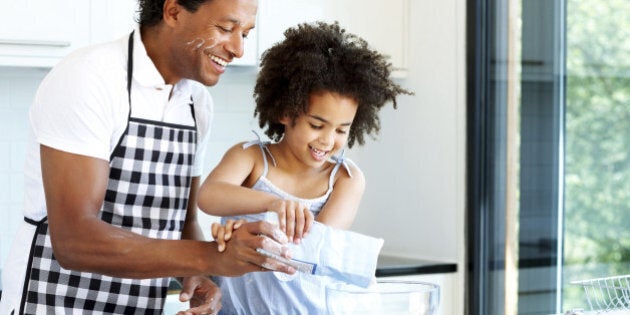 Dads often get the short end of the stick when it comes to gifts. Ties, ugly sweaters, soap on a rope, you name it.
Here are two secrets about Father's Day presents: first, nobody has ever actually wanted soap on a rope and second, what your father really wants on Sunday, June 15 is the gift of your time. So forget getting him the latest biography by a retired athlete, and make some plans for activities instead.
We've got 11 ideas for great ways to spend Father's Day with your dad. There's definitely something in this list that will fit his interests, and none of it requires you to remember whether or not you got him a blue tie or red tie last year.
Hit the local driving range or play a full 18 holes with Dad this Father's Day. For those of you who are up to it, you can relive your childhood and hit a local mini-golf course for a fun afternoon. The great thing about mini golf is that even the less-than-stellar courses are fun, but that doesn't mean there aren't some impressive options out there. Monster Mini Golf in Edmonton is indoors, so you won't get rained on, and Dinosaur Adventure Golf in Niagara Falls doesn't skimp on the kitsch.
Take Him To A Baseball Game
The Toronto Blue Jays are out of town on Father's Day, but you could give Dad a rain check and catch them the week after when division rivals the New York Yankees are in town. If you aren't in Toronto, you don't have to miss out: check out CanAm League teams New Jersey Jackals and Quebec Capitales when they're in la Belle Province, or even find a pick-up game at a local park.
Brunch is a Mother's Day classic, but you can do it Dad style too. The Father's Day brunch at the Gasoline Alley Museum in Calgary features a carving station with Alberta beef and gammon ham. And Toronto restaurant Barque has items like smoked duck pancakes and biscuits with chorizo gravy on its brunch menu. Mmm... meat.
Wherever you are in the country, there's somewhere you and Dad can go for a leisurely hike on Father's Day. Newfoundland's East Coast Trail links 32 communities in the St. John's area, and the prairies aren't known for their hills, but Wanuskewin Heritage Park near Saskatoon has scenic valley hiking that documents the area's First Nations history.
When Was The Last Time Dad Went Fishing?
If you live near Vancouver, check out the family fishing day at Rice Lake in the Lower Seymour Conservation Reserve, The event features a salmon barbecue, hatchery tours, and license-free fishing. Of course, anywhere else in Canada you can still grab a rod and spend a day on the water with Dad.
Marathon season has begun all over Canada, so there's sure to be a local run or walk you and Dad can sign up for. And as a bonus, many of them support worthwhile charities that do good work locally and nationally. The Do it for Dads Walk Run is happening in cities across the country, from Victoria to Halifax. And the annual Manitoba Marathon in Winnipeg raises money to support people living with intellectual disabilities.
Visit A Classic Barber Shop
Take Dad for a shave and a haircut — the kind he might remember from his own youth. The return of beards and moustaches means a revival of the classic barber shop. Visit a longstanding institution in your town, still staffed by the same barber who opened it decades ago. If Dad's a modern fellow, he'll enjoy something like the classic shave and manicure offered by MANN in Montreal.
Spice Things Up In The Kitchen
If you have a local college that offers a cooking program, it probably also has one-day classes or workshops that can be taken by non-students. Many chefs and restaurants also offer cooking classes —check out Cook Culture in Victoria or Mengrai Gourmet Thai in Toronto are good examples.