Oh the irony.
A family who lives in a beehive-shape home in rural Alberta has found their abode has attracted thousands of bees.
Cheryl and Wade Morgan say their Blackfalds home, whose unusual shape has distinct heating advantages, is acting like a ready-made hive for a queen and her worker bees.
The couple told the Calgary Sun the swarm of bees showed up out of the blue one morning, as they were having coffee around their campfire.
"It got louder and louder, and my husband looked up — and it was 'whoooooah!' It was unbelievable, you looked up and there they are, a black cloud of bees, circling the house, as if they were saying, 'Oooh, look at this,'" said Cheryl.
The bees found a hole in the roof, which was being repaired at the time, and are now living between the ceiling and the roof.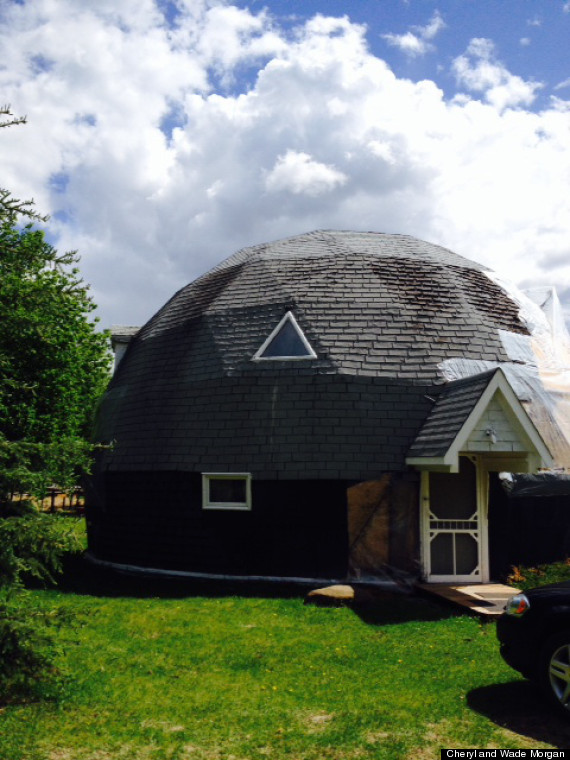 Calgary bee expert Eliese Watson, whom the Morgans contacted for help, told Global News bees tend to swarm in June and July when they are trying to make a hive.
However, the good news is that they are generally docile at this time of year.
"Before they leave, those bees will gorge on honey and pollen. And that's why when you capture a swarm, they are very gentle and calm. They have full stomachs. It's like having a fist fight after a turkey dinner," she said.
The bees will be removed this week with the help of professionals, after the Morgans were able to find a beekeeper willing to take the whole hive, reports the Calgary Sun.
And the Morgans are not alone, as bee swarms have been making headlines around the world this spring.
A shop and car were swarmed in London last month, as well as millions of honeybees swarming a Delaware highway last month after a truck the insects overturned.
Bees Swarm Around Topshop sale
Like this article? Follow our Facebook page

Or follow us on Twitter