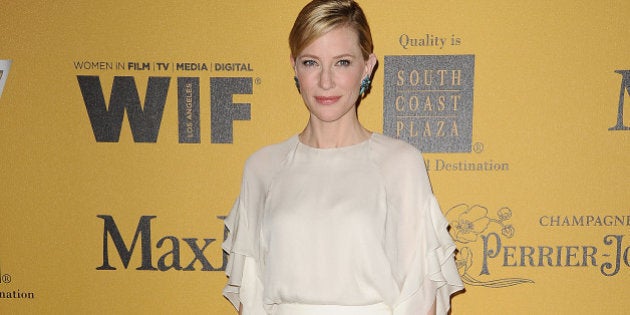 Cate Blanchett is a red carpet goddess.
The star added a pop of colour with her turquoise and diamond Lorraine Schwartz statement earrings, and finished off the ensemble with a pair of flat, metallic sandals, proving that it's possible to rock flats with a formal gown (take note, Shailene Woodley).
The overall look is just so effortlessly pretty on the Academy Award winner. (But really, does she ever have a bad moment on the red carpet?)
During the ceremony, Blanchett, along with fellow actresses Eva Longoria and Kerry Washington, was honoured by Women In Film for her career achievements. When she accepted the honour, the "Blue Jasmine" actress urged women to take more risks in their film roles and overcome the fear that they can't fail.
And if one thing's for certain, we know Blanchett is definitely a risk taker both on and off-screen (which makes for some pretty great fashion choices).
What do you think of her Chloe dress?