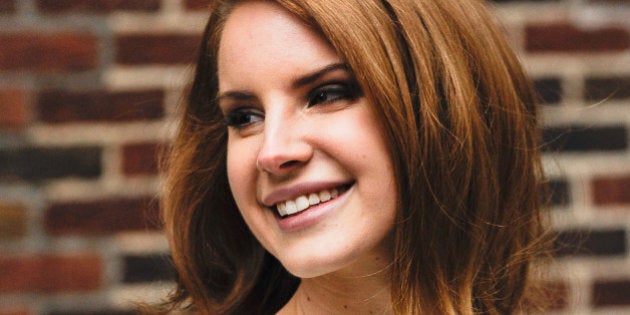 This week, Lana Del Rey's long-awaited follow-up to her album, "Born To Die," was released, and yes, we are absolutely using "Ultaviolence" as an excuse to dissect her style.
Since the days of Lizzy Grant, Del Rey has maintained an inherently unique sense of self: to put it plainly, girlfriend can dress. So with that in mind, we looked at 10 of her best outfits, all of which come with a valuable style lesson. Because if we can benefit from a record release, we're definitely going to try.
Read below the gallery for more!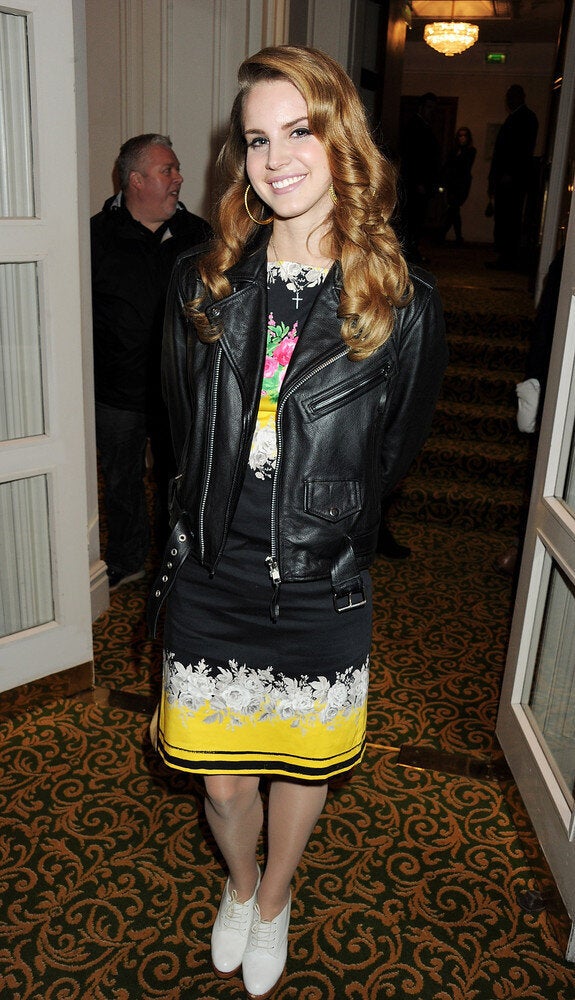 Style Lessons We Can Learn From Lana Del Rey
1. A Biker Jacket Works With Everything
Here's a promise I can make right now: you (yes, you!) can wear a biker jacket. You can also wear it with anything (as evidenced by Del Rey's pairing of the leather staple with knee-length patterned dress). Like a car coat or jean vest, a biker jacket works with almost any pattern or fabric, and adds a little depth to an outfit that might otherwise feel too simple. I won't use the word "edgy" because it's horrible, but yes ... you will feel and look that way in one.
There's a reason we seem to gravitate towards gold or silver every year, and that's because metallics work. They're safe, they act as an outfit anchor, and they dress up a look without requiring too much commitment. In this case (November 2011), Del Rey channeled disco vibes in her button-up and wide-legged trousers. In your case, you can take a cue and embrace metallic fabrics with a gold tank, gold dress, or silver shoes. You just need to believe!
White can feel intimidating if you're looking to camouflage, or if you're inclined to spill on yourself (been there). We're not all Olivia Pope. However, Del Rey's 2012 David Letterman appearance proved white can seem casual, safe, and even wearable. With her slightly above-the-knee, long-sleeved dress, the singer's look felt crisp and clean, especially since she paired it with nude platforms for a late '60s feel. You can do the same with a dress cut similarly, or don a white blouse and skirt instead for a Del Rey-meets-Robin Wright in "House of Cards" vibe.
4. Jeans Are Almost Always A Good Choice
Maybe – like some of us – you're not into dressing up. If that's the case, embrace Del Rey's Amoeba performance choices (February 2012) and stick to timeless staples: ballet flats, skinny jeans, and a white button-up blouse. There's nothing wrong with basics, especially if that's what you want to wear. And as proven by how comfortable and on-point the singer still looks, they're go-to pieces for a reason -- they always work, they make you feel like a person who can move, and, well . . . jeans are our friends.
Sheer styles can seem even scarier than an all-white outfit, but fear not: as proven by the songstress at a Mulberry dinner, you can pull off sheer without having to reveal too much. In Del Rey's case, black lace fabric and a high waist keep the look fancy, rather than exhibitionist (not that there's anything wrong with that), and the skirt length and beehive create an ensemble ripped from Megan Draper's wardrobe. And if (like me) you're not a crop top girl, lace also makes the cutouts feel more wearable, giving you the option of something more midriff-baring as it appears to offer more coverage.
6. Varsity Jackets Are For All Of Us
Think of the varsity jacket as a less-commanding biker jacket – it still makes a statement, but it isn't as heavy. It can look lighter, be more athletic than "rebellious," and, like the biker, also works well with denim or dressier pieces. This season, Marc Jacobs did his own take on the varsity trend with satin, proving how the jacket can adapt to any style (and that autumn is coming, so it's okay to pick one up now).
7. There's No Limit To Statement Pieces
As of right now, there's no need to shy away from statement pieces. Or more specifically, there's no reason to shy away from wearing a bunch of statement pieces at the same time. Case in point: Del Rey in March 2012, who paired a print blouse with a heavy gold necklace, a fur coat, and Converse shoes. And you know what? They totally work. Each piece acts as a neutral (the fur coat is an earth tone, gold works with most fabrics, and Converse shoes are a staple), so together, they create a cornucopia of dreams. It's a fine balance – in that it looks fine, almost always.
8. When The '90s Call, Answer
Most of us are in the midst of over-romanticizing the '90s, and that's okay – especially, since Lana Del Rey's sheer ankle length skirt and crop top look just as fresh in 2013 as they did circa "Reality Bites." Not only is the outfit further proof that when worn with a high waist, crop tops are for everybody, but it shows that long skirts don't have to be frumpy; especially if balanced with a top that's a little more form-fitting. Winona would be proud.
Capes are the perfect – and I mean perfect – choice for formal events in which your everyday jacket doesn't work, and a long overcoat is too heavy. Why we stopped wearing capes is a mystery mixed with a tragedy, but fortunately, Lana Del Rey's choice to pair hers with a floor-length metallic number is a reminder of how useful capes are. But they don't always need to be formal: a shorter cape can work just as well as denim coat if you're feeling fancy, and you can probably score a vintage style at a thrift store for next-to-nothing.
10. Camouflage print can create a balance.
Del Rey's peach skirt would've looked a little too airy worn with her platform sneakers, but the camouflage print anchored them both – especially since it was a heavier fabric and relatively loose. Lesson learned: camouflage is the most underrated neutral, since you can dress it up or down, and wear it with almost any colour.