The Toronto Sun's front page on the Ontario Election is out and it's about as fair and balanced as you would expect.
LADIES AND GENTLEMEN, WELCOME TO HELL: THE SEQUEL.
#TOSunFront: It's Friday the 13th. Get ready for a horror show. http://t.co/sY6QGe0bON #onpoli #voteon pic.twitter.com/rorPcsEgGr

— Toronto Sun (@TheTorontoSun) June 13, 2014
The cover is par for the course for a newspaper known for its ridiculously theatrical headlines, but it's not exactly impressive when you consider it's essentially the exact same thing the paper ran after the 2011 election.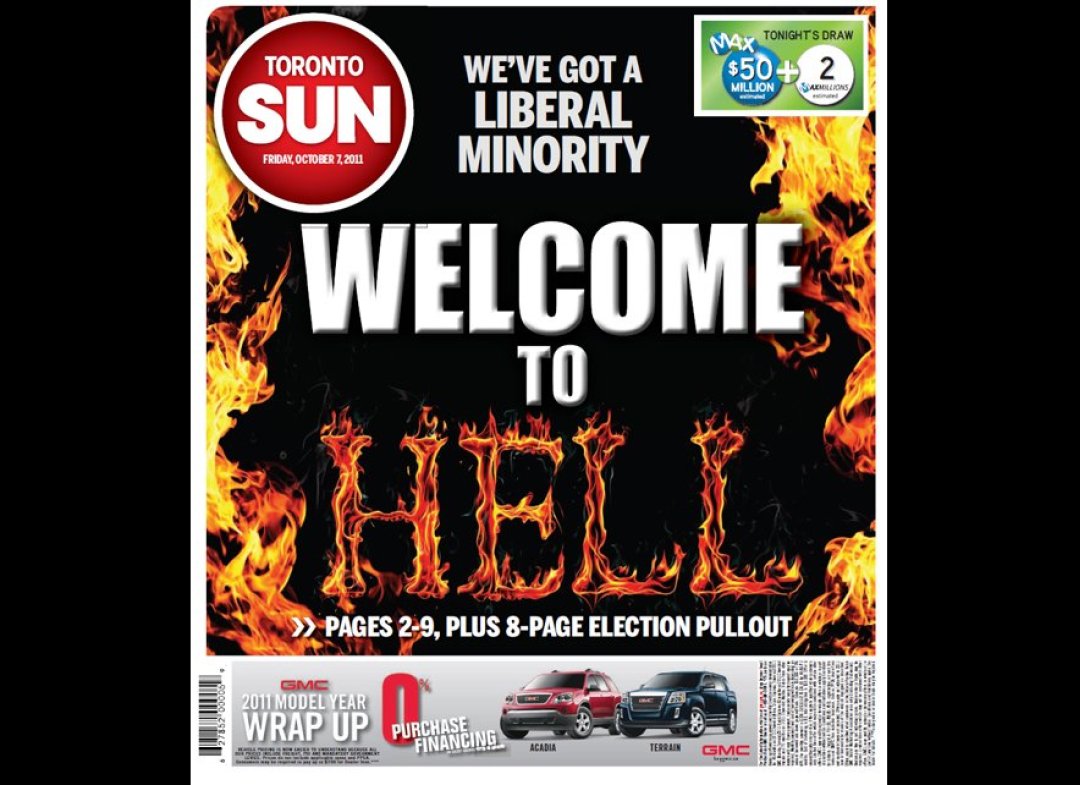 Maybe the paper spent all its time prepping for a Hudak victory and was forced to plagiarize itself in a mad rush to get something printed. Regardless, from a publication responsible for gems like this, Ontario had reason to hope for more.
RT @jonmccarthySUN: Ya know, Mean Gene ... the front page writes itself if you eat your vitamins & say ur prayers pic.twitter.com/Ohz4GqEAxD

— Toronto Sun (@TheTorontoSun) March 21, 2014
But don't worry, the Sun will have its main muse back soon. Rob Ford passed along his congratulations to Liberal leader Kathleen Wynne in a Sun article early Friday morning and said he can't wait to get back in the action when he returns from rehab at the end of the month.
Follow Michael Bolen on Twitter
Also on HuffPost
Best Photos From Election Night