Constables. Dave Ross, 32, Fabrice Georges Gevaudan, 45, and Douglas James Larche, 40, were killed in the shootings. Constables Darlene Goguen and Éric Stéphane J. Dubois were injured.
Supt. Marlene Snowman, the officer in charge of the Codiac RCMP detachment, thanked the community for its support in a statement released Saturday, saying "words will never be enough."
"You brought food, flowers, gifts, handmade cards, drawings and poems. You gave us hugs, pats on the back and you shook our hands," the statement reads.
"But the expressions of condolences and support for the RCMP didn't stop there. It seemed like everywhere we went in Greater Moncton there was a sign, a billboard, a picture in a window all saying thank you. And then there was social media — thousands of messages from around the world have flooded in.
"It's been overwhelming and also so very comforting."
LeBlanc says there will be a permanent memorial "honour our fallen heroes so that their sacrifice will forever be remembered."
LeBlanc also released a letter of thanks on Saturday, praising residents for their support and strength.
"The actions of one individual will not define us as a community. In its place, let our overwhelming community spirit define us. Now is the time for us to pull together and reclaim our city and our community," he said.
as officers prepare to collect the gifts that have been piling up in the wake of the shooting deaths of three Mounties.
Dozens of people have left flowers, teddy bears, handmade cards and other items outside Codiac RCMP headquarters and other detachments after the shootings.
RCMP will collect and sort the gifts on Sunday. Anything that can be preserved will be shared with the families of the officers. Three maple trees will be planted at the homes of the families of the three slain Mounties.
Justin Bourque, 24, has been charged with three counts of first-degree murder and two counts of attempted murder.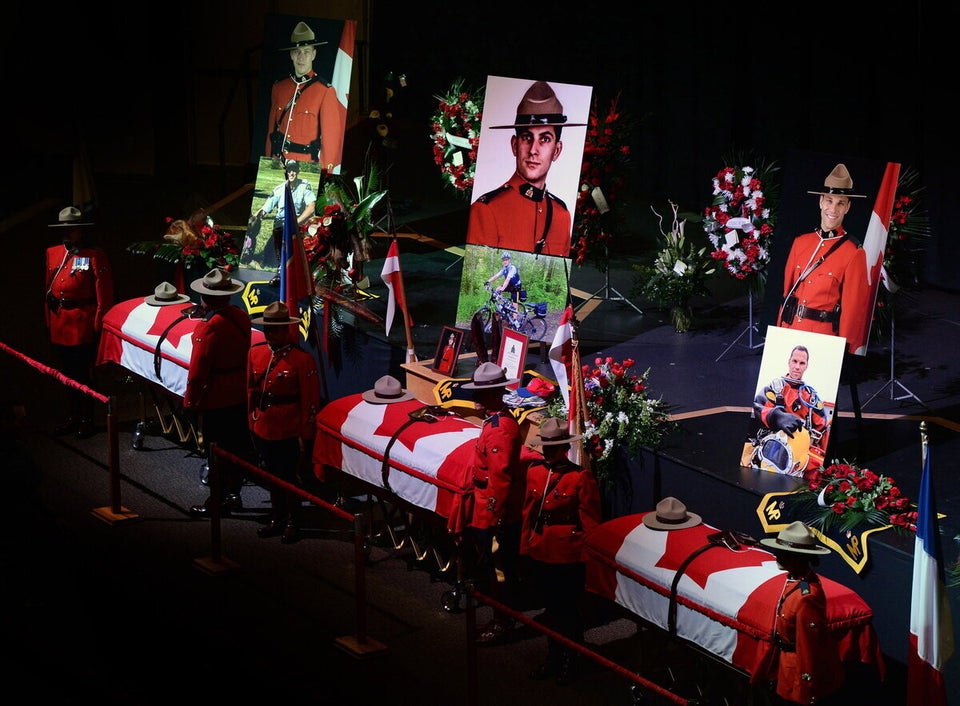 Moncton Remembers The Fallen