Just a day after going casual with jeans and a shirt with baby Prince George, Kate Middleton stepped up her style with fancy headwear and a long blue coat.
The Duchess of Cambridge wore a powder blue Christopher Kane coat (she wore the same coat during a palace reception in 2012), L.K. Bennett nude heels and a matching blue hat during the Order of the Garter ceremony at Windsor Castle on Monday.
Dressed in summer's finest pastel, the 32-year-old kept her makeup minimal while her hair looked flawless, as usual. She was joined by Sophie, the Countess of Wessex, the Queen, Prince Charles, and even caught a quick glance of husband Prince William who was dressed in a traditional robe.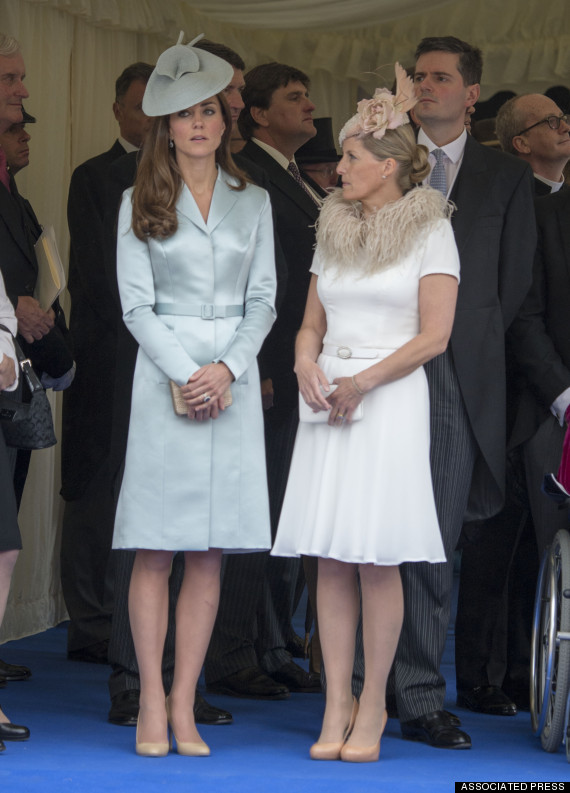 The ceremony marked the beginning of Royal Ascot week, known as Garter Day, the senior British Order of Chivalry founded by Edward III in 1348. There are a total of 24 Garter Knights (Prince William was made a Knight of the Garter in 2008) including members who have held public office or served the Queen personally, according to the Daily Mail. Prince Harry even made a rare Ascot week appearance on Tuesday for the occasion, reports The Guardian.
What do you think of Kate's coat? Let us know in the comments below:
Check out more photos from the event below:
Kate Middleton's Best Fashion Moments