It's difficult to imagine the turmoil going on inside Spanish goalkeeper Iker Casillas's mind after his team bombed out of the 2014 World Cup on Wednesday.
The team captain appeared inconsolable after Chile defeated them 2-0, ending Spain's hopes for a second consecutive world title.
Casillas has been a key player in a national squad that has dominated on the world soccer stage since 2008. Back then it defeated Germany to capture the European title before taking the World Cup two years later.
It captured a second consecutive Euro trophy in 2012.
Photos taken on the pitch after the game showed Casillas putting a face to a nation's malaise.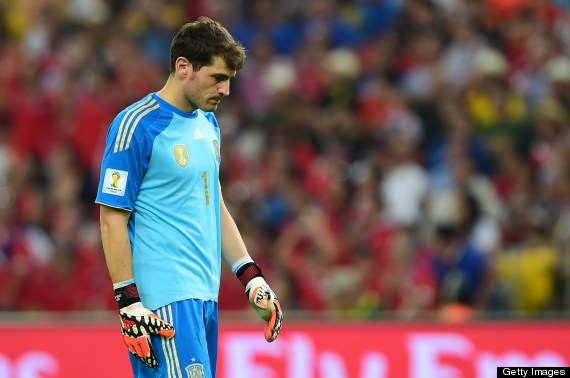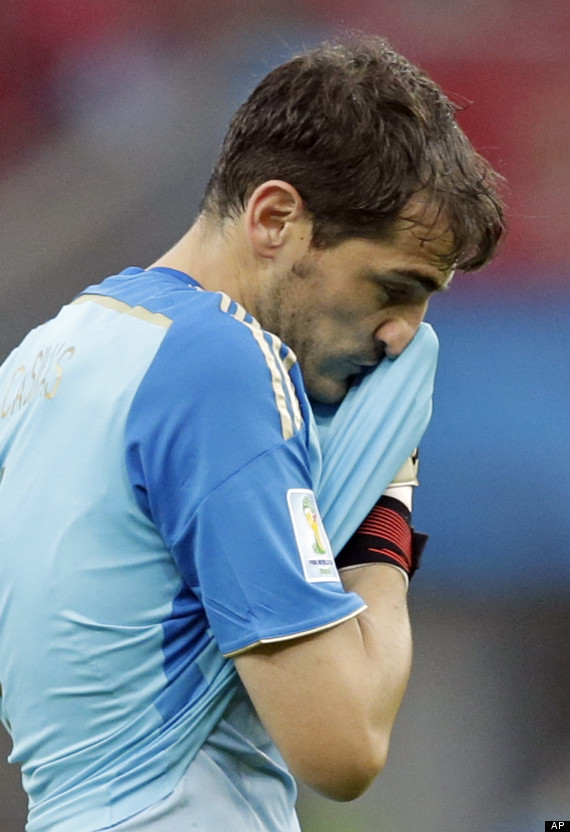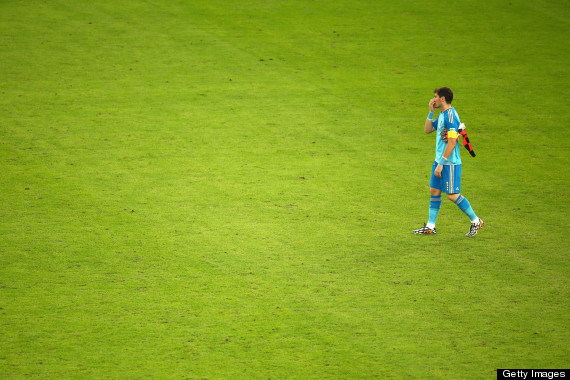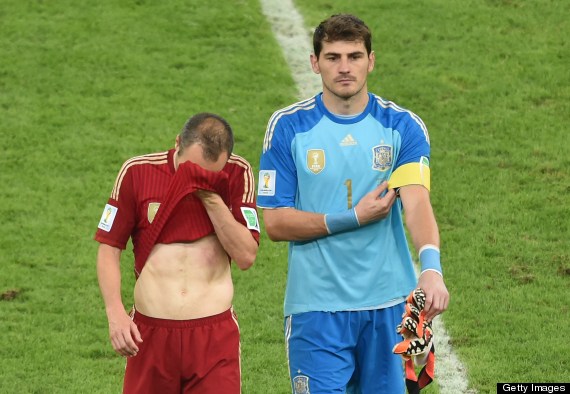 Casillas's misery was expressed even more pointedly on Twitter, where users alternately mocked or sympathized with the keeper.
@CasillasWorld please don't be sad #SiempreCasillas pic.twitter.com/lJusA4PJbN

— Canay Mıstık (@cnymstk) June 18, 2014
Don't forget you're always the best @CasillasWorld pic.twitter.com/jHsA9z9goz

— IkerCasillas Türkiye (@casillasturkiye) June 18, 2014
BREAKING: Live pictures of Jose Mourinho watching Iker Casillas. pic.twitter.com/wMXrXoqSSO

— BBC Sporf (@BBCSporf) June 18, 2014
BREAKING: The aliens from Space Jam may have paid Iker Casillas a visit! pic.twitter.com/ihorVoajPn

— FIFAWorldCup (@ThaWorldCup) June 18, 2014
Iker Casillas & Diego Costa mocked by memes as #ESP stand on the brink of #WorldCup2014 exit http://t.co/mLOCHdqnOF pic.twitter.com/796CpWpeJv

— Metro Sport (@Metro_Sport) June 18, 2014
Is Iker Casillas international career over? #ESP pic.twitter.com/xLfNucFB5C

— Unibet (@unibet) June 18, 2014
Iker Casillas be like #ESPvsCHI #WorldCup pic.twitter.com/aEwOgJi2s9

— ƳΣƐʐʊᎦ (@TheRawestMike) June 18, 2014
Sad Iker Casillas looks like Zurbaran's St. Francis in Meditation pic.twitter.com/em7UTj5MDC

— Heidi N. Moore (@moorehn) June 18, 2014
'You're killing me, please stop...'

'No, I swear. They used to think Casillas was better than me' pic.twitter.com/18QHijLLEW

— Rav (@juvefcdotcom) June 18, 2014
Twitter users had earlier ridiculed Casillas after Spain lost 5-1 to the Netherlands on Friday.
Casillas: How am I supposed to save it when the ball moves?! #spainvsnetherlands #ESPNED pic.twitter.com/wtRcNy4hRs

— Adil (@AdilG) June 13, 2014
Post game interview of Iker Casillas #WorldCup pic.twitter.com/9WYefcr8Iw

— ⠀ (@austinstl) June 13, 2014
This picture just about sums up Casillas' night. http://t.co/JsbH6hg8R6 pic.twitter.com/V3MhYThuZ1

— Telegraph Football (@TeleFootball) June 13, 2014
On 2010 Iker broke Robben's heart, on 2014 Robben finally got his revenge T^T still sad tho #spainvsnetherlands pic.twitter.com/l6zo6GOHXw

— ria (@GalaxyGurl07) June 14, 2014
Like this article? Follow our Facebook pageOr follow us on TwitterFollow @HuffPostCanada
World Cup 2014: All the goals