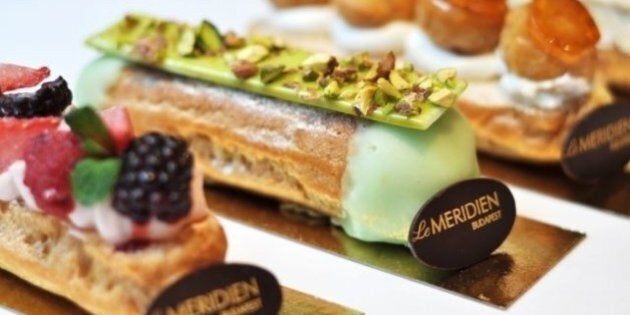 If the Cronut is the new cupcake, the éclair is the new macaron. And there's perhaps no better time to revisit the traditional French pastry than National Chocolate Eclair Day in the US on June 22, a holiday that may have mysterious origins -- no one really knows how or when it started -- but a clear MO. To eat.
While Macaron Day may have gained a fair bit of international momentum thanks to inventor Pierre Hermé, it wouldn't be a stretch to predict that National Eclair Day may steal a bit of the pastry spotlight, given the éclair's renewed popularity in Paris, where chef Christophe Adam is reinventing the classic chocolate cream-filled choux pastry.
Adam is doing for éclairs what renowned pastry chef Hermé has done for macarons: reimagine the pastry with non-traditional, innovative flavor pairings like apple-vanilla, lemon-yuzu, raspberry-passionfruit and salted caramel.
It's a formula that worked for Hermé, often described as the Picasso of pastries, and is likewise working for Adam, whose boutique L'Eclair de Genie in the Marais district attracts snaking lines.
Meanwhile, luxury Paris-based hotel chain Le Méridien is also trying to capitalize on this most delicious day in June by launching a global éclair program with chef Johnny Iuzzini, who in 2006 was named the James Beard Foundation's Pastry Chef of the Year and has schooled under Hermé.
Look for maple bacon and Texas honey pecan éclairs at Le Méridien Dallas by the Galleria, for example, or citrus-inspired éclairs with mango, lime and ginger at the Bangkok location.
In Germany, Le Méridien Munich will serve a savory version of the éclair, made with goat cheese, cranberry and pumpernickel crumbs.
Meanwhile, British foodspotters are calling a London-born hybrid dessert, 'the biskie,' the new Cronut. Created by bakers at Cutter and Squidge, 'the biskie' is a cake-cookie sandwich made with two soft biscuits that sandwich airy buttercreams. The new desserts will come in a dozen gourmet flavours like green tea, white chocolate and raspberry and milk chocolate, peanut and salted caramel, reports The Daily Mail.
National Chocolate Eclair Day in the US is June 22.