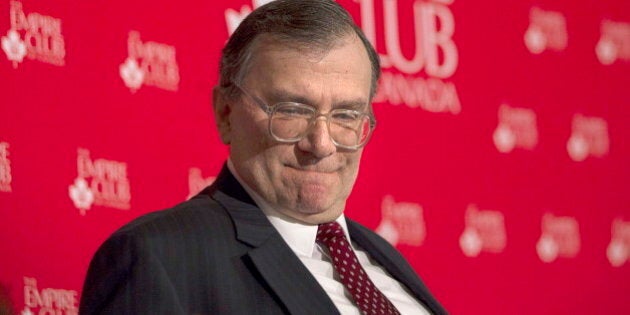 OTTAWA - Russia would consider it provocative if Canada joined the U.S. ballistic missile defence shield and the move would aggravate relations already strained by the Ukraine crisis, says Moscow's departing ambassador.
Ambassador Georgiy Mamedov said Canada would be wasting its money if it opted to participate in the defence shield — something a Senate committee recommended in a report this week.
"We will consider it to be a politically provocative, though it won't change any balance, it won't be necessary for your security or American security. They don't need you," Mamedov said in an exclusive interview with The Canadian Press.
"It will just be a waste of time and money and an unnecessary irritant in our relationship."
That was one of several political punches the often-outspoken Mamedov threw at the Conservative government in a wide-ranging departure interview. He leaves his Ottawa post on Monday after 11 years in the job.
Mamedov also blasted the Harper government for its harsh and unrelenting criticism of his country's actions in Ukraine following its annexation of Crimea in March and the unrest in eastern Ukraine.
Harper has labelled Russian President Vladimir Putin a provocateur in eastern Ukraine, calling him a threat to world peace for violating the country's borders and annexing Crimea.
"On foreign policy, because of recent events, of course I can't agree with what this government is doing, trying to paint everything white or black, including us and Ukraine," Mamedov said.
He accused the Harper government of isolating itself from its allies over Ukraine and hinted broadly that the Conservatives are likely playing to a domestic audience of 1.2 million Ukrainian-Canadians.
"My whole history as a diplomat, during Cold War, after Cold War was: the higher the risk, the more active the discussion," he said. "The only exception to this rule is the last seven months I spent in Ottawa."
But with a Senate committee weighing in on missile defence and a House of Commons committee also poised to do so, Mamedov said Canada will undermine already troubled relations with Russia if it joins the BMD program.
"It's not smart, but it's your sovereign decision," he said.
"If it would be considered provocative during peaceful times, imagine how it would look on top of all this hysteria over a confrontation about Ukraine."
The minority Liberal government of Paul Martin opted out of the missile shield in 2005 in the face of domestic political pressure. The shield's main purpose is to down incoming nuclear warheads from North Korea or Iran. But with U.S. shield installations in eastern Europe, Russia also considers it provocative.
At the recent G7 meeting in Brussels, Prime Minister Stephen Harper said Canada had no immediate plans to join the program, but added:
"Obviously there are changes occurring in the world and we will continue to examine whether that does or does not serve Canadian interests and we will make whatever decision is in the best security and safety interest of Canadians."
During the G7 meeting, Harper pushed his fellow leaders not to speak to Putin as they all headed to France to commemorate the 70th anniversary of D-Day. Harper argued that talking to Putin would undermine the West's attempts to politically isolate him over the Ukraine crisis.
But U.S. President Barack Obama, German Chancellor Angela Merkel, French President Francois Hollande and British Prime Minister David Cameron all spoke to the Russian.
"That's why what Mr. Harper says is propaganda. But that's not the saddest part of it," said Mamedov.
"The saddest thing is if this government truly believes that we're the source of all troubles in Ukraine, that we're the threat, that we're the problem, I don't understand why they reject our numerous proposals to sit down and discuss it."
Mamedov said that's the message he delivered to senior Foreign Affairs Department officials who have called him on the carpet to register Canada's displeasure twice in recent months.
"When they summoned me to remonstrate … I said I disagree with what you say, but I will dutifully report to Moscow, but why did it take you so long just to talk to me?" he recalled.
"The only reaction I got from high level officials is, 'your point is well taken.' What does that mean?"
Mamedov said Canada-Russia relations progressed well in recent years, up until the Ukraine crisis. Both countries signed a military search and rescue treaty in the Arctic and need each other to exploit the economic potential of the vast, resource-rich, northern region.
"But of course when you have such bickering and shouting matches, everything from hockey to the Arctic is put on hold. And this is a shame."