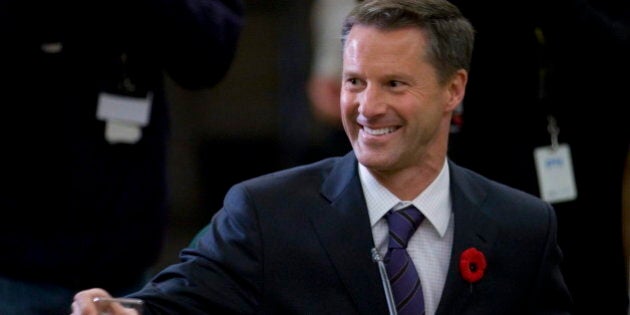 OTTAWA - Conservatives — including the Speaker of the House of Commons — have been feting Nigel Wright as Stephen Harper's former chief of staff leaves behind Ottawa and a brutal year to return to the private sector.
Wright resigned his post a little over a year ago following the revelation he had secretly paid $90,000 of Sen. Mike Duffy's contested expenses. The prime minister repudiated Wright publicly, calling him responsible for the "deception" and saying he was dismissed.
Then this spring, the RCMP said there was no evidence to support a criminal charge against Wright over the $90,000 cheque.
Two parties for him over the past week point to the respect — and even gratitude — Wright continues to command inside Conservative circles, in spite of his tumultuous year.
Commons Speaker Andrew Scheer held a private dinner for Wright on Monday at his official residence outside Ottawa. Attendees included junior minister Maxime Bernier, Democratic Reform Minister Pierre Poilievre and party lawyer Guy Giorno.
Bernier described it as a "dinner among friends," but declined to elaborate. Scheer footed the bill for the get-together, the Speaker's office noted.
That event was preceded by a larger gathering last week at a pub in Ottawa's Byward Market — ironically called The Brig.
MPs, Conservative party movers and shakers and Parliament Hill staffers showed up to bid farewell to Wright as he rejoins private equity firm Onex Corp. The company's CEO has said Wright could be destined for the firm's London office.
The common Conservative refrain around the events of last spring is that the 51-year-old millionaire made an uncharacteristic error in judgment, one he was forced to pay for by losing a job he adored and enduring intense public scrutiny.
"The party owes him a lot, and he's a person of substance," said one Conservative insider, who spoke on condition of anonymity because he wasn't authorized to discuss the matter publicly.
Wright kept a low profile over the past year, doing charity work in Ottawa and travelling internationally, including to Latin America. His only public comments have come via his lawyers.
"My intention was to secure the repayment of taxpayer funds," Wright said in his last statement on April 15.
"I believed that my actions were always in the public interest and lawful."
Ottawa might not have seen the last of Wright, however. With an RCMP investigation into allegations of bribery, fraud and breach of trust against Duffy continuing, Wright could find himself called to testify in any future court case.