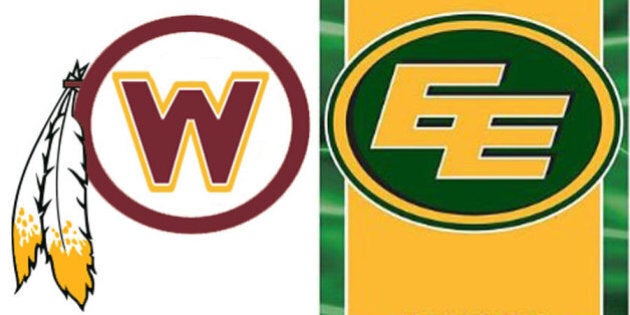 The blowup over the Washington Redskins NFL logo and mascot could boost a campaign in Canada to spike the CFL's Edmonton Eskimos brand, which some have suggested could also be considered offensive.
The U.S. Patent and Trademark Office decided in a landmark ruling on Wednesday to cancel six Redskins registered trademarks, reasoning that the name was "disparaging to Native Americans."
It was a development that Edmonton-based outreach worker and native studies researcher Daniel Johnson called a "victory."
- Washington Red Tapes? Twitter suggests new names for D.C. football team
"I hope teams with racist names and logos are starting to be a little afraid," the former University of Alberta native studies instructor told CBC News.
"I think the conversation has been ongoing in both the U.S. and Canada, and that the Washington controversy will surely continue to inspire social media campaigns and, hopefully, grassroots activists to pressure these team owners to change their names."
The U.S. patent ruling over use of "the R-word" quickly bred speculation about which other major sports franchises — the Cleveland Indians, Atlanta Braves, Chicago Blackhawks — might be targeted next.
At least one Canadian sports team, the Ottawa-area Nepean Eagles, has already taken a stand on this issue. In January, the youth football club adopted its Eagles identity and dropped its Nepean Redskins name after 35 years and a human rights complaint.
Johnson expects the change-the-name movement to turn to turn its attention to the Eskimos.
But there's no debate as far as the CFL club is concerned, said Allan Watt, vice-president of communications and marketing for Eskimos.
"We have no backlash from our fans or politicians or any other sort," Watt said. "The only people we ever hear from with regard to the name 'Edmonton Eskimos Football Club' is with people like you — reporters."
Johnson begged to differ.
"Changing the name of the Eskimos … is simply the right thing to do," he said, adding that he recalled "quite a number of people on social media" demanding an Edmonton CFL team name change "over the past couple of years."
Reached at his home in the Alberta capital, former Eskimos player Dave Ward, who now goes by the single-word Inuktitut name Kiviaq, said he wouldn't want to see the club name changed, nor does he see any reason people should take offence from it.
Kiviaq played just three weeks with the Eskimos in 1955, when he debuted as the club's first Inuk athlete, before injuring his neck at a Calgary exhibition game. Even so, he remembers those days fondly, and said he takes great pride in being an "Eskimo."
He is now in his late 70s.
"I don't know what the problem is with having us called the Edmonton Eskimos. It wasn't meant to be derogatory at all. We're proud of it and we should be proud of it," he said.
Johnson acknowledged many Inuit people will support the name, but that the bottom line is "people should not be used as a caricature in professional sports."
The conversation online appears to have already shifted that way.
The youth group Canadian Roots Exchange, which focuses on educating the public about indigenous communities, linked to the Redskins article and commented in a tweet: "Would the Canadian patent office do the same with the Edmonton Eskimos?"
'Eskimo' still used in some communities
Another Twitter user in Halifax, Frank Streicher, wondered why the CFL team had not yet been subjected to "the Washington Redskins treatment."
CBC Television host George Stroumboulopoulous also mused about the future of the Eskimos name in light of the Redskins decision.
"With the pressure mounting on the Washington football club," he asked, "will Canadians apply equal pressure to the Edmonton football club?"
Some argued that while they saw the term "redskin" as a slur, they had no problem with the word "Eskimo."
That term has fallen into disfavour in some communities, but it continues to find common usage in others. For example, the name "Eskimo" is often used in Alaska to refer to Inuit people.
Lawrence Kaplan, a linguistics professor with the Alaska Native Language Center, writes in a blog post on the University of Alaska Fairbanks website that linguists believe that the word "is derived from an Ojibwa word meaning 'to net snowshoes.' However, the people of Canada and Greenland prefer other names. 'Inuit,' meaning 'people,' is used in most of Canada."
Watt, with the Edmonton Eskimos organization, said the CFL franchise remains sensitive to people who might take offence to any portrayal of indigenous people.
Compared to teams such as the Cleveland Indians, which has been accused of promoting stereotypes or racist iconography by using a drawing of a grinning chieftain named Wahoo, the Edmonton organization's logo is benign — just two letter E's in green and gold. The club's mascots, Nanook and Punter, are a polar bear and an angry football.
Still, Johnson argues, the word "Eskimo" shares at least one thing with the Redskins.
"That is that it's outdated, inaccurate and mostly unaccepted in current discourse, and entirely inappropriate for a sports team," he said.
The Washington Redskins organization said it plans to appeal the trademark office's ruling.