Twitter/CP
It appears Conservatives looking ahead to the 2015 election still believe Justin Trudeau's support of marijuana legalization is a political weakness to exploit.
Top Tories pounced all over Trudeau last summer after he announced that he supports legalizing, taxing and regulating the drug. The Liberal leader also told The Huffington Post Canada that he smoked pot after becoming an MP in 2008, leading to more attacks about his judgment.
But the Liberal leader's approval ratings didn't suffer greatly.
Now, it seems Tories are ramping up their rhetoric by suggesting Trudeau is promoting pot directly to children.
Vancouver South Conservative MP Wai Young is the latest to try this tack with a controversial mailer showing a Justin Bieber-esque teen firing up a joint next to the Liberal leader.
Coming up on the Coast we look at these mailers sent out by Conservative MP @WaiYoung pic.twitter.com/EmhZQ0Qdt2

— Stephen Quinn (@CBCStephenQuinn) June 20, 2014
The flyer claims Trudeau "visited schools to tell kids pot should be legal."
The incident in question occurred in November, when Trudeau campaigned for Rolf Dinsdale for a byelection in Brandon, Manitoba. At a school in Sioux Valley, where the audience was a combination of younger kids and high school students, Trudeau was asked why he favours legalizing marijuana. The Liberal leader reiterated his position that pot is bad for kids and that regulating the drug will do more to help keep it out of their hands.
Though Tory candidate Larry Maguire (who would go on to narrowly win the byelection) and Justice Minister Peter MacKay both accused Trudeau of promoting drugs to elementary school students, a Manitoba journalist at the event confirmed the Liberal leader did no such thing.
Stewart McGillivray, president of the Vancouver South Liberal riding association, told CBC News that Young's flyer is misleading.
"Justin Trudeau has been extremely clear that we don't want our children more easily able to access this, that it does have harmful effects in many cases," he said.
"I think Wai Young knows that, so I wish she would act a bit more maturely on the issue."
Last week, it was revealed Conservatives are also using similar tactics in the riding of Scarborough-Agincourt, where a byelection will be held on June 30.
Tories have blanketed the riding with flyers showing former longtime Liberal MP Jim Karygiannis and the quote: "This is not the same Liberal party we knew. The party has changed."
The flip side shows that same photo of a boy lighting up a joint and the Liberal leader standing in a haze of smoke.
"Trudeau wants marijuana in local stores, just like alcohol and cigarettes," the flyer claims.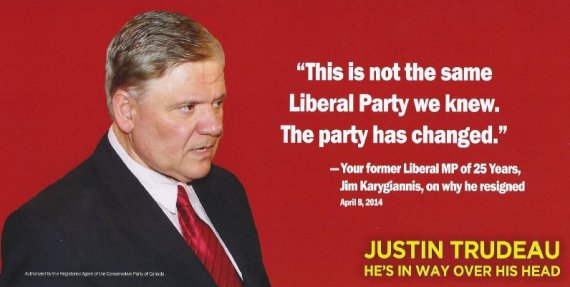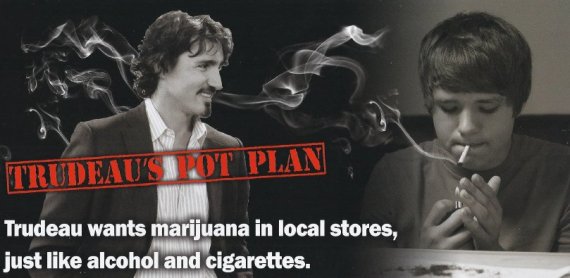 The quote from Karygiannis came from a colourful interview the former MP gave The Globe and Mail weeks earlier and had nothing to do with pot.
Karygiannis told The Canadian Press that he thinks the flyers were intended to appear as though they came from him and worries they could be effective.
"This is an all-time low for the Conservatives," he said.
Even MacKay has gotten in on the attack, recently tweeting a YouTube clip of the Liberal leader discussing marijuana at an event at the University of Manitoba last fall.
As a parent, I oppose @JustinTrudeau's plan to make dangerous drugs more accessible to children: https://t.co/u6E50Y4SBK #cdnpoli

— Peter MacKay (@MinPeterMacKay) June 18, 2014
But in the video MacKay sent out, Trudeau didn't actually say anything about making marijuana more accessible for kids.
Trudeau was asked by pot activist Steven Stairs what he thinks about the government's new medical marijuana regulations. The Liberal leader accused Prime Minister Stephen Harper of having a "nanny state" stance on the drug.
"The current hyper-controlled approach around medical marijuana that actually removes from individuals the capacity to grow their own is not going in the right direction, in either respect to freedom or the kind of care that people need," he said.
Trudeau again reiterated his view that the current legal state of affairs actually makes it easier for young people to get hold of the drug and that a system like that in place for alcohol would work better to curb consumption. He also stressed that his plan would hurt organized crime.
The Liberal leader threw a zinger back at the justice minister on Twitter last week.
#asaparent I know that @MinPeterMackay wants the best for his child. #asaCanadian, I expect our Justice Minister to tell the truth.

— Justin Trudeau, MP (@JustinTrudeau) June 18, 2014
And, as you can tell from the gallery below, "#asaparent" became a popular hashtag among Grit supporters and a few MPs. Many couldn't resist throwing some digs at MacKay for recent comments he made about why so few women are appointed as judges in Canada.
MacKay told the Ontario Bar Association that many women don't apply to be judges because they fear the job will take them away from their children and that kids need their mothers more than their fathers.
Do you think the Conservative attack on Trudeau's pot position will pay dividends in 2015? Tell us in the comments.
With files from The Canadian Press, Michael Bolen
Also on HuffPost