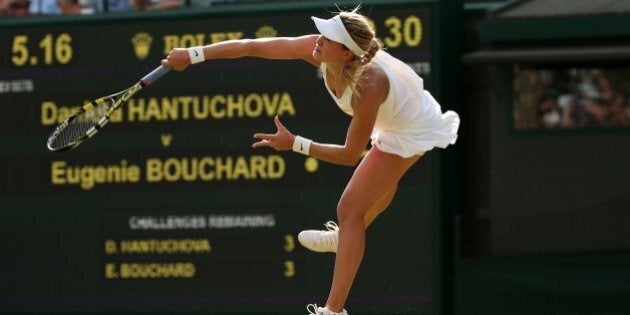 LONDON - Milos Raonic and Frank Dancevic threw a one-two winning punch for Canada on Tuesday as the eighth seed and the lucky loser combined for a pair of first-round Wimbledon victories within minutes of each other.
Raonic, from Thornhill, Ont., fired 30 aces — compared to two for his opponent — in a comfortable 6-2, 6-4, 6-4 win over Australia's Matthew Ebden that took little more than 90 minutes.
It was a two-hour victory for the 107th-ranked Dancevic, who won his first Wimbledon match since 2011 as he upset 29th-seeded Croatian Ivo Karlovic 6-4, 7-6(5), 7-6(4).
Women's 13th seed Eugenie Bouchard of Westmount, Que., joined them later with a 7-5, 7-5 win over Daniela Hantuchova.
Raonic, who lost his only grass tuneup match this month at Halle, Germany, is into the Wimbledon second round for the fourth consecutive year, but hopes to go farther after never winning two matches in a row at the event.
The 23-year-old was never in trouble from Ebden, with the Canadian claiming the first two sets and breaking for a lead in the third.
Raonic sent over a service winner for three match points, but needed only one as he put a volley into the far corner out of Ebden's reach.
"I feel really good about this win, I played a lot better than I expected to," said Raonic. "I showed that I can adjust my game on this surface," said the right-hander with a 10-10 career record on grass.
"I did what was necessary to win. I think my Roland Garros quarter-final gave me confidence and showed me that I know what I need to do to win in these situations and eventually get into the second week of slams."
Dancevic, a 29-year-old from Niagara Falls, Ont. has played in the main draw at the All England Club seven times and earned his third Wimbledon win as he overcame 32 Karlovic aces. Dancevic never faced a break point and broke the Croatian once.
Dancevic advanced with 47 winners and just four unforced errors.
"I had to serve really well, it was my main focus," said Dancevic. "But returning was a lottery, I was just guessing.
"From the first point I had to pick sides. I returned amazing, From the first ten serves in a row I got ten returns back. It was basically a guessing game, when I got into the point, I had the advantage. It came down to a coin toss, I returned a little bit better on the key points."
He entered the field as a lucky loser from qualifying round and won his first match at the ATP level since the U.S. open fist round over Robin Haase last August.
"It feels great, I haven't been on this grass while," Dancevic said. "I felt motivated by the whole atmosphere and being given a chance to be alive here at Winmbledon. I tried to play relaxed and go for my shots.
"I'm really, really happy I got through."
In women's action Swiss Timea Bacsinszky beat Toronto's Sharon Fichman 6-1, 6-3, with the 85th-ranked Canadian admitting she was outplayed.
"I'm starting to like the grass," said the 23-year-old who was making her main draw debut at the All England Club. "Unfortunately I didn't plays as well as I could have.
"It didn't help that my opponent was playing very well, It's disappointing. I felt like I didn't bring a good enough level for most of the match and she did. It was pretty straightforward — she played well and went for it, I tried and it just didn't work for me today."