UPDATE: FIFA confirmed it is investigating Suarez following the incident.
Luis Suarez needs to calm down.
The Uruguay forward appeared to bite Italian defender Giorgio Chiellini during the Tuesday World Cup match between the two teams.
This isn't the first time Suarez, who is also a striker for Liverpool, has faced discipline for gnawing on another player. In April of last year, he was banned for 10 matches after he appeared to bite Chelsea defender Branislav Ivanovic on the arm, and in 2010, while playing for Ajax, he received a seven-match ban after biting PSV Eindhoven player Otman Bakkal.
Seriously buddy, cut it out.
Chiellini showed off his shoulder after the fact.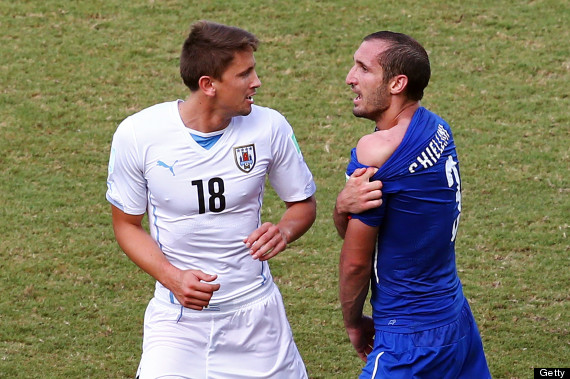 Check out some Twitter reactions to Suarez' very aggressive move in the slideshow below and, of course, there are no shortage of memes:
Oh God. Lol. This is the best one. pic.twitter.com/y2VAJ5by9W

— BrianWilde (@BWildeCTV) June 24, 2014
The bite even got a reaction from boxer Evander Holyfield on Twitter. Holyfield, of course, was the recipient of a very nasty bite from Mike Tyson.
I guess any part of the body is up for eating.

— Evander Holyfield (@holyfield) June 24, 2014
The Huffington Post UK put a funny spin on the incident.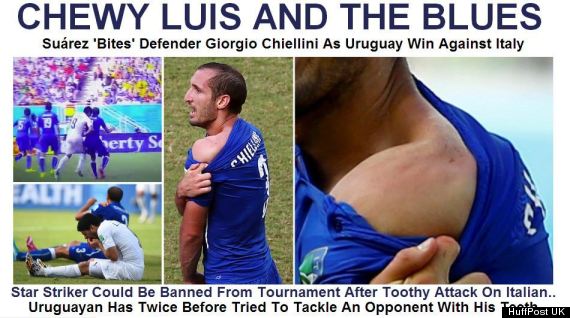 Many online called for Suarez to be banned from future games for the alleged move. Uruguay scored just minutes after the incident and would go on to win the game 1-0, eliminating Italy from the tournament.