Just over two-thirds of those polled said they love their country and what it stands for, with citizens in Manitoba and Saskatchewan most positive (79 per cent) and citizens in Quebec least positive (43 per cent).
Just less than a quarter of respondents said they are attached to the country only as long as it provides a good standard of living and eight per cent said they are not attached at all and would like to see the country split up. Nearly one quarter of those polled in Quebec said they would like to see the country divided.
Perhaps most surprising is that 3 per cent of respondents would actually like to see the country merge with the United States. Those in Quebec were the biggest fans of the idea (6 per cent).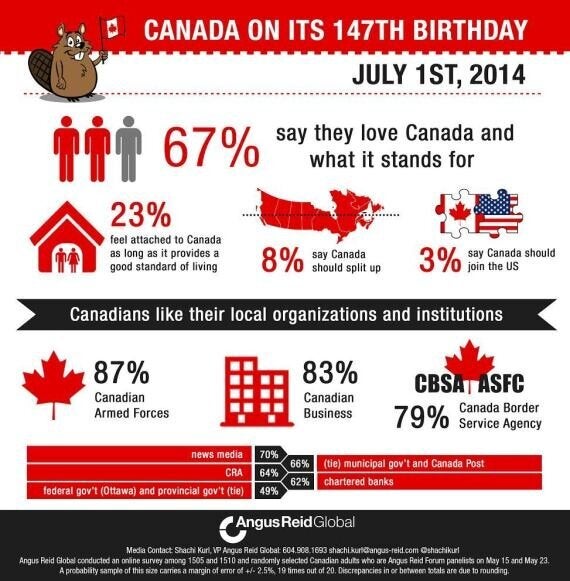 Angus Reid also looked at how Canadians feel about various institutions, with the armed forces receiving the most favourable rating. Eighty-seven per cent of respondents said they had a favourable view of the military, followed closely by Canadian business at 83 per cent.
The federal and provincial governments were least popular with favourable ratings of 49 per cent apiece. The federal government was least popular in Manitoba and Saskatchewan (38 per cent) and most popular in Alberta (59 per cent). The provincial government was most popular in Quebec (63 per cent) and least popular in Alberta and Ontario (both at 42 per cent approval).
Municipal government fared better, scoring an approval rating of 66 per cent. The news media also did relatively well, receiving an approval rating of 70 per cent.
All the data comes from two online surveys of 1505 and 1510 Canadians adults conducted in mid-May of this year. The margin of error for the surveys is plus or minus 2.5 per cent, 19 times out of 20.