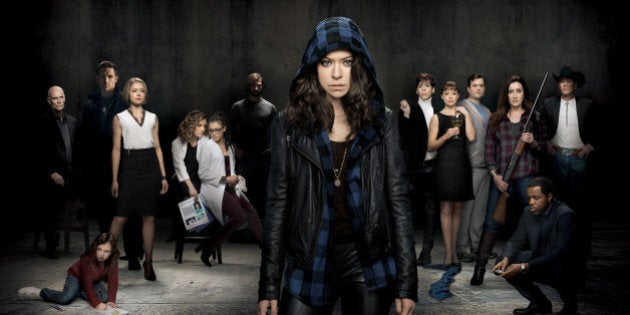 However, as appreciative as we may be over a line of Olivia Pope-inspired pieces (that we, unlike her, will obviously spill drinks and food on), there are other shows whose wardrobes we deserve to reap the benefits of. You can find them below, and join us in petitioning whoever it is we need to petition.
Are you an Abbi or an Ilana? That is actually a trick question because we all relate to both. However, the season finale of "Broad City" saw not only the bandage dress Abbi once planned to return 30 days after she bought it, it also featured Ilana's perfect crop top and skirt, which (rightfully) scared her fellow restaurant patrons. This style contrast is epitomized throughout the season. But just when you think you have either comedian figured out, they both don performance bibs, proving there's more than enough to work with in terms of a fashion line. (Are you listening, Bed Bath & Beyond? Let's do this.)
Nobody gets Mindy Lahiri's style like Mindy Lahiri – or us, since we follow and appreciate Ms. Kaling and her show. Like the great heroines before her, Mindy (both Kaling and Lahiri) wears what she wants and knows she looks great in: she dons metallics, bright colours, bold prints, and hats in the spirit of Keira Knightley running errands. Are you thinking about the splendor that would incur with collaboration between "The Mindy Project" and J Crew? Because we are.
Even if you're not of the A-line skirt school, you've got to admit that Jessica Day rocks an A-line cut. Fortunately, Tommy Hilfiger thought so too, which explains his recent collaboration with Zooey Deschanel – the actress. However, Zooey and Jess are two different people, and while Jessica embraces polka dots, glitter, and bows, Deschanel opts for more grown-up choices. Thus, it's time to let Ms. Day dance. And as far as we're concerned, The Gap is where that dance should be.
The 1980s get regularly overlooked, but "The Americans" are a weekly lesson in reminding viewers how worthy of appreciation the earlier part of the decade is. (Style and music-wise, Cold War wise, it was understandably upsetting.) Leather jackets, skinny jeans, and body suits make up a good part of Elizabeth Jennings' aesthetic, so if American Apparel really wants to commit to turning over a new leaf, they'll turn their back on the Dov Charney years and align themselves with an FX hit.
"5. American Horror Story: Coven"
Terrifying as the witches of New Orleans may be, they re-introduced late '70s chic via sweeping skirts, black boots, and hats. What's even better is that each witch stayed true to her own identity despite the coven's black dress code: Fiona Goode was all business in blazers and fitted dresses, while Misty went the Stevie Nicks route in a shawl the singer actually gave her. As for which store would work best? Enter: AllSaints – their neutral pallet adheres to the "Coven" look, while there's just enough movement in each piece to uphold a Nicks-like look.
How has this not happened yet? Last year's "Great Gatsby" may have hogged the 1920s spotlight, but "Boardwalk Empire" has proven itself a tried-and-true provider of endless flapper inspiration. Last year saw the collaboration between Brooks Brothers and "The Great Gatsby," so perhaps the chain could pick up where it left off. (Provided it offered more than just menswear, too.)
And now to represent "clothing line you could do literally anything with" comes "Orphan Black," the show about clones with vastly different personalities. (Among many other things, but this is about style, not about political and social commentary. Today, anyway.) Anything else will give the show away, but if "Pretty Little Liars" can score a line at Aeropostale, then "Orphan Black" deserves one at H&M.
Obviously no one here expects any store to issue a line of clothes slightly inspired by the Middle Ages. But considering "Game of Thrones" jewelry is abundant, there's more than enough room for modern pieces that play off the looks of Cersei, Daenerys, Margaery, and the gang. Anthropologie, if you're listening, you or your varying fabrics could help bring "Game of Thrones" to our closets.
"Girls" nail polish exists, but we're still without four distinct styles in a limited-edition line that all of us (all of us -- let's not kid ourselves here) would buy. Jessa, Marnie, Hannah, and Shosh all boast wardrobes of dreams, so why deprive the viewership of a shot at Shosh's hats or Hannah's mesh shirt? A store like Urban Outfitters offers enough types of styles to house all four characters (or pieces inspired by them) – even though they have yet to sell the Lena Dunham shirt.
Sherlock Holmes' coat is a Belstaff men's coat that we would end up swimming under. (It's not small.) So give us options, other stores! Give us the female equivalent, and a scarf to match, and all of Molly's sweaters, too. We deserve to be stylish and warm while solving mysteries, and we're willing to bet a store like Ted Baker would get behind that.