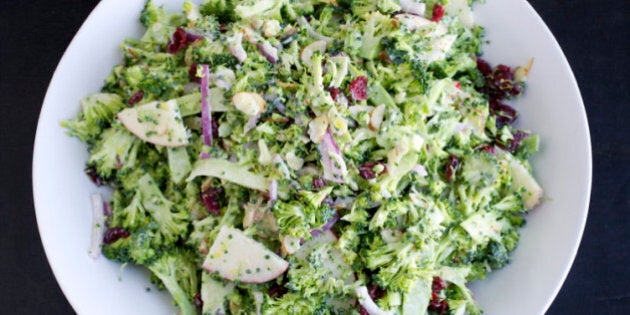 It may be the vegetable you hated as a kid, but broccoli deserves a lot of love. This tree-like green veggie has about 34 calories for every 100 grams. It can be eaten raw or cooked and can be made into anything from dips to soups to salads.
Nutrition wise, broccoli is a powerhouse. It is a great source of vitamin C (148 per cent of your daily intake on a 2,000 calorie diet), vitamin A and fibre. It's also linked to boost healthy aging and lower the risk of breast cancer — talk about a superfood!
Here's what you need to buy this week, while the other necessary ingredients (like pepper, salt and oils) are likely already in your kitchen.
Broccoli
Coconut oil
Garlic
Onion
Dried chili flakes
Coconut milk
Basil
Red apple
Cranberries
Almonds
Mayonnaise
Greek yogurt
Apple cider
Stevia
Potatoes
Kale
Cheddar cheese
Panko crumbs
Cream cheese
Sour cream
Parmesan
Milk