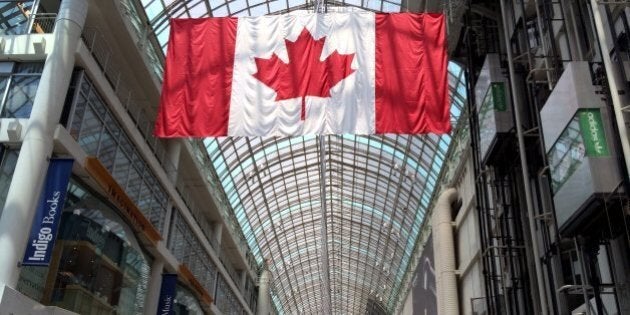 The American invasion of Canadian retail is disconcerting to shoppers, but cost-conscious consumers are more driven by price than buying Canadian when making purchases, according to a survey of HuffPost readers.
HuffPost Canada's unscientific poll of more than 1,820 readers revealed some telling trends among Canadian shoppers — from a certain degree of loyalty to homegrown brands to their growing tendency to shop online, despite a stated preference for brick-and-mortar stores.
As HuffPost reported last week, Canadian shopping malls are on the decline amid the rising popularity of one-stop and online shopping. Consumers, strapped for time and money, are looking for more efficient ways to shop.
Our readers' responses reflected this phenomenon, with 64 per cent of respondents saying they visit malls less frequently than they did five years ago.
A majority of readers, 59 per cent, have shopped online in the past month, while just eight per cent said they have never shopped online.
While online shopping is picking up in popularity, 67 per cent still said they prefer to shop in brick-and-mortar locations rather than on a website.
They also showed some ambivalence about Canadian retail brands in the era of globalization.
The relatively buoyant Canadian economy has proven attractive to foreign retailers who are rapidly eating into the market share of smaller Canadian stores, which are dying off in the face of unprecedented competition.
A whopping 72 per cent of readers said they are concerned about the closure of Canadian retailers. Fully 37 per cent said they were opposed to the influx of U.S. chains spreading north, while 29 per cent were for it and 34 per cent said they were either undecided or didn't care.
Check out the U.S. brands we'd most like to see come to Canada (story continues below):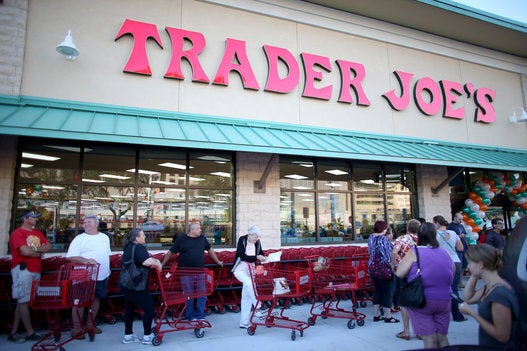 U.S. Brands We Want To See In Canada
But price, not patriotism, was far and away the most important factor for our readers when making shopping decisions. It was cited by 52 per cent of readers as the primary decision-making factor. Nationality of the store and origin of product were the primary factors for just 15 per cent and eight per cent of respondents, respectively.
Costco was the favourite of 35 per cent of readers for one-stop shopping, a phenomenon that is partially responsible for the decline of the traditional shopping mall. Canadian-owned Loblaws tied for second with Walmart, with 25 per cent of the vote each. Canada's Dollarama got just as much love as the struggling U.S. giant Target, at six per cent each. Some readers remained loyal to the now-defunct Zellers stores, which received three per cent of the vote.
Canadians were a little more patriotic when it came to department stores, with Canada's storied Hudson Bay Co. running away as the favourite for 52 per cent of our readers. However, it should be noted The Bay might be less Canadian than our readers think. The chain was bought by a U.S. private equity company in 2006, only to return to the public stock market last year, dispersing the nationality of its ownership among investors.
Readers also chose Canadian when it came to the clothing brand they most identify with. Despite a plethora of recognizable international brands to choose from, 34 per cent chose the Mark's line (formerly known as Mark's Work Warehouse) from Canadian Tire as their favourite apparel maker. Loblaws-owned Joe Fresh came in second with 13 per cent of the vote.
Canadian Tire also was the top choice of 48 per cent of readers, who said they identify most with its brand over Ikea, Lowe's, Home Depot or Rona.
Reader responses poured in from every province and territory with a pretty even distribution between male (46%) and female (54%) respondents and across various age groups.