It's official: Brazil's star player is out of the World Cup after fracturing a vertebra during Friday's quarterfinal match against Colombia.
In the 86th minute of play, Colombian defender Juan Zuniga jumped behind Neymar and kneed him in the lower back, causing the Brazilian forward to fall onto to the pitch and cry out in pain.
The 22-year-old player was in tears when he was carried away on a stretcher.
"He will not be in condition to play, he will need a few weeks to be fit again," team doctor Rodrigo Lasmar told reporters after the game. "He is very, very sad."
According to Lasmar, Neymar will not need surgery and isn't expected to be hospitalized.
Here's a look at what happened:
Zuniga wasn't punished by referees for the move and later offered an explanation for what happened.
"It was a normal move. I never meant to hurt a player. I was on the field, playing for the shirt from my country, not without the intent to injure. I was just defending my shirt," he said, according to BBC News.
Neymar's injury even prompted Brazilian President Dilma Rousseff to respond with her support on Twitter.
"Along with the rest of Brazil, I'm hoping for the recovery of our greatest player," she said.
With files from The Canadian Press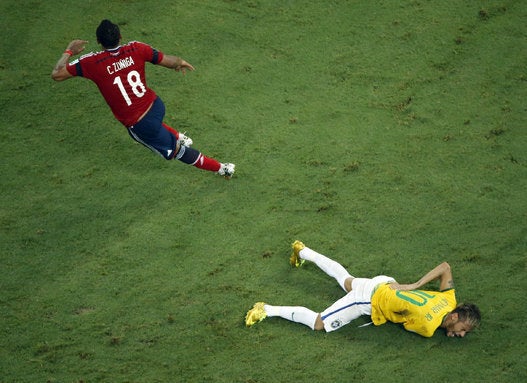 PHOTOS: Brazil vs. Colombia