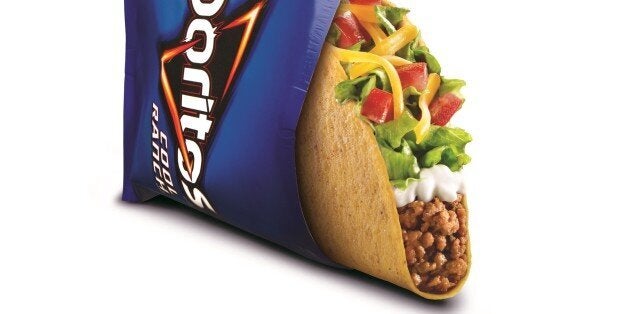 But in case you've ever visited a Taco Bell in the States and smuggled a Cool Ranch Dorito shell back home to enjoy, you can stop breaking the law right now, because the Cool Ranch Doritos Locos Tacos will be here in Canada on July 7.
It's basically your regular Taco Bell taco, consisting of seasoned beef, lettuce and cheddar cheese (or made vegetarian if you're up for it), but now encased in a Doritos Cool Ranch shell, of which the main ingredient is "seasoning" (with strong notes of salt, tomato and garlic).
According to the folks at Taco Bell Canada, this has been the most requested item via social media since the company introduced the Nacho Cheese Doritos tacos last year.
At 160 calories and 10 grams of fat (for the meat option), it's not the worst fast food snack you can choose, but we do feel it's only fair to warn you in advance — that Cool Ranch breath is pretty much only eliminated via peppermint gum and extensive teeth brushing.
Would you eat one? Let us know in the comments below: