It didn't quite hit with the force of a hurricane, but post-tropical storm Arthur left plenty of damage after it hit Eastern Canada on Saturday.
The storm brought heavy rain and winds that blew at over 116 kilometres per hour.
It also knocked out power for over 100,000 customers and left many without electricity into Monday.
Photos from the storm show fallen trees and power lines in Fredericton, N.B. Others show massive waves lapping up against the shore in Nova Scotia.
Here are some of the most stunning images showing Arthur's force and its aftermath.
Escuminac, N.B.: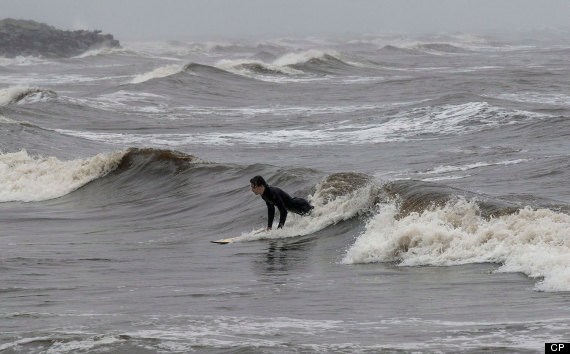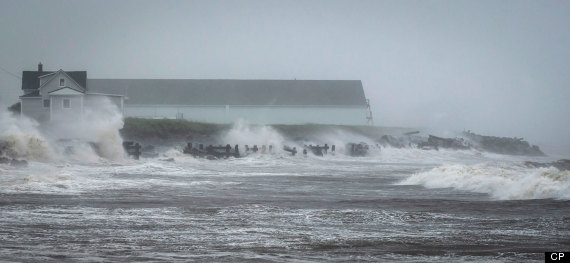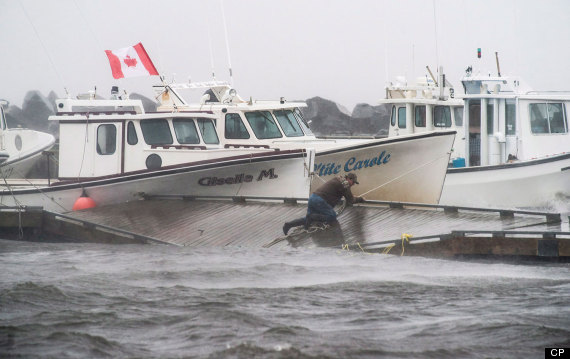 Fredericton, N.B.:
Here's an idea of what we're battling to restore power- this big guy was spotted near the Fredericton airport pic.twitter.com/vOTyFnVzSQ

— NB Power (@NB_Power) July 7, 2014
CBC's Michael Stuart took this image on corner of Charlotte and St. John streets in Fredericton. #nb #arthur pic.twitter.com/6H0QB5uW42

— Dan McHardie (@mchardie) July 6, 2014
#Fredericton's Dir. Public Safety says 2,500 trees down in the city, likely to take 3 weeks to clean up. @CTVAtlantic pic.twitter.com/UvHGDN3vgF

— Nick Moore (@NickMooreCTV) July 6, 2014
Cars driving on sidewalk to bypass downed tree on Lincoln Rd at Adams St in Fredericton. #Arthur #nb pic.twitter.com/kex3IYXjf2

— Redmond Shannon (@RedShannon) July 5, 2014
Saint John, N.B.:
So much rain coming down in Saint John right now. That lake used to be Fairville Blvd. pic.twitter.com/1MG9xMxdGo

— Emily Baron Cadloff (@EmilyBat) July 5, 2014
Meanwhile in at the Walmart in Saint John.... pic.twitter.com/Tu8iafJHrx

— Becca Goldie (@BeccaHeartsEggs) July 5, 2014
Eastern Passage, N.S.:
Halifax, N.S.:
Halifax harbour churning under Arthur's onslaught. #cbcns #hurricanearthur pic.twitter.com/7OxsgZ7rYO

— Jean Laroche (@larochecbc) July 5, 2014
Lawrencetown, N.S.:
Peggy's Cove, N.S.: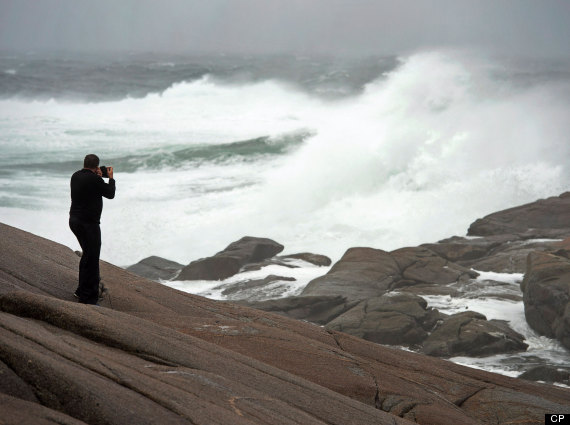 Arthur-driven waves crash over rocks at Peggy's Cove. pic.twitter.com/ipZ3MHhs0j

— Ross Lord (@rlordglobal) July 5, 2014
Seas are climbing at #Peggy's Cove Nova Scotia from Post TS #Arthur. Wind gusts 50-60mph @SenorSombrero2 @PeterCoade pic.twitter.com/Pd1EDnXqV2

— Steve Weagle (@SteveWeagleWPTV) July 5, 2014
Waves are really starting to hit hard at Peggy's Cove. #Arthur pic.twitter.com/Rd32Ckj2sj

— Mark Robinson (@StormhunterTWN) July 5, 2014
Massive waves lashing the rocks at Peggy's Cove. NS. #Arthur pic.twitter.com/IFUXGTJ8fA

— George Kourounis (@georgekourounis) July 5, 2014
Charlottetown, P.E.I.:
PHOTOS | Arthur hits Maritimes: Post-tropical storm causes widespread blackouts http://t.co/iMb53ipOQy #cbc pic.twitter.com/S6BvMrbDpN

— CBC British Columbia (@cbcnewsbc) July 6, 2014
Space:
Watch out! Tropical Storm #Arthur on his way into Florida... pic.twitter.com/B2wCBo22sz

— Alexander Gerst (@Astro_Alex) July 3, 2014
Hurricane #Arthur seen from the #ISS / Der tropische Wirbelsturm #Arthur von der #ISS aus gesehen pic.twitter.com/xaaIQcrKBJ

— Alexander Gerst (@Astro_Alex) July 3, 2014
Hurricane #Arthur's eye seen from #ISS pic.twitter.com/5aEpGFz5I6

— Alexander Gerst (@Astro_Alex) July 3, 2014
#ISS update on Hurricane #Arthur pic.twitter.com/Bvnk9Y2IjK

— Alexander Gerst (@Astro_Alex) July 3, 2014
#Hurricane #Arthur just before land fall pic.twitter.com/Vx4nIOSVLr

— Alexander Gerst (@Astro_Alex) July 4, 2014
Have you ever wondered how it is to stare down the eye of a #Hurricane? Eerie! #Arthur pic.twitter.com/vOISvpBhGF

— Alexander Gerst (@Astro_Alex) July 5, 2014
#Hurricane #Arthur over #Manhattan. Disturbingly beautiful from up here. pic.twitter.com/WjrTPLVstC

— Alexander Gerst (@Astro_Alex) July 5, 2014
Beautiful to the south, unwelcome #Arthur to the north pic.twitter.com/TJ6c4lS65o

— Reid Wiseman (@astro_reid) July 3, 2014
Hurricane #Arthur has grown an eye since we last met. pic.twitter.com/HBJoDrcNxQ

— Reid Wiseman (@astro_reid) July 3, 2014
Like this article? Follow our Facebook pageOr follow us on TwitterFollow @HuffPostCanada
Hurricane Arthur in Photos