Canada's regional economic divide isn't going anywhere, but it will narrow a little in the coming year thanks to slightly faster economic growth in the east, TD Bank says in a new report.
That said, the boom in commodity prices in recent years has made commodity-rich provinces the runaway winners when it comes to money.
The bank's provincial economic forecast sees Alberta's nominal per capita GDP at $88,000 in 2015, a full $35,000 higher than the rest of the country.
Saskatchewan's GDP will be $28,000 higher than the Canadian average, while Newfoundland — despite having among the highest jobless rates in the country — will exceed the national average by $17,000. Given that TD forecasts Newfoundland to have the highest jobless rate (11.9 per cent) in the country next year, this looks like evidence that the benefits of resource industries aren't very evenly spread.
All the same, TD notes that this marks a major turnaround for Newfoundland and Saskatchewan, which as recently as 2003 had nominal GDP numbers below the national average. At that time, Alberta's GDP advantage over the rest of the country was half ($17,000) what it will be in 2015.
The east-west divide in job numbers will persist, the bank forecasts.
Ontario and all provinces east of it will see unemployment rates above 7 per cent, while everything west of Ontario will see jobless rates below 6 per cent, the bank forecasts.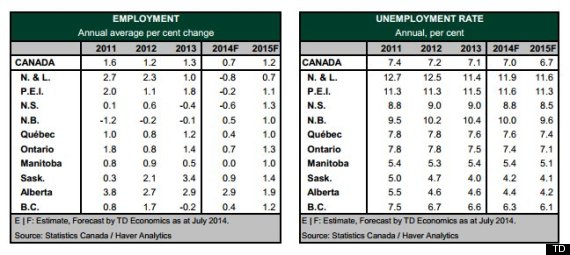 But only one province (guess which one) is forecast to generate a significant amount of jobs.
Three provinces — Newfoundland, P.E.I. and Nova Scotia — are forecast to lose jobs this year, before bouncing back in 2015. All remaining provinces except Alberta will see weak job growth this year, with job growth of less than one per cent. The number of jobs in Alberta is expected to increase by a very strong 2.9 per cent.
Overall, TD sees a slight narrowing of the gap between commodity and non-commodity provinces in the coming year. It sees real GDP growth in Ontario accelerating to 2.7 per cent in 2015, from 2 per cent this year.
Alberta will still lead the country, though, with 3.2 per cent GDP growth next year.
Also on HuffPost
Best, Worst Places To Find Work