Well, that's one way to make a comeback!
The Guess model sports a series of stunning outfits, including an embroidered green-and-gold anarkali and a unique aquamarine-and-metallic suit.
With her signature thick locks styled into glamorous waves and kohl around her eyes, the 31-year-old Bollywood beauty has her beauty look down pat.
Jinaam Dresses founder Rahul Oswal was also enarmoured with Priyanka, saying, "Priyanka is a versatile personality, who has achieved both national and international fame. And she does it with great style, being recognised as a fashion icon not just in India, but across the world. She is a great fit for our brand. We've been manufacturing Indian ethnic clothing for over 12 years now and our fundamentals are clear — every thread needs to be designed keeping in mind both the physical and emotional needs of a woman."
Check out the stunning photos below: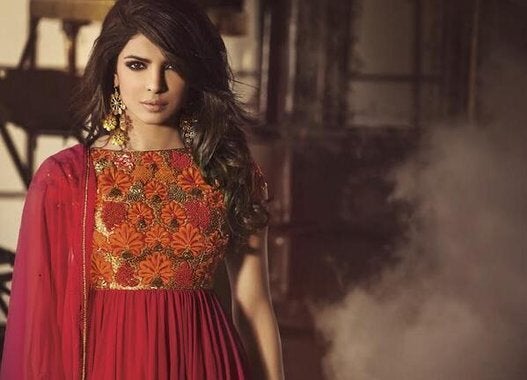 Priyanka Chopra's Gorgeous Ads