It's a message that has been ingrained in the heads of women around North America: you don't look good enough. Yet.
But a fearless new campaign is trying to get women to shake free from the shackles of this dangerous thought. The "Stop The Beauty Madness" campaign has an empowering message for women and is using brutally honest ads to get them to think about what they're seeing in the media.
"We are determined to Stop The Beauty Madness in our ourselves, our mothers, our sisters and our daughters.

Part of this includes calling out the ugly truths hidden in our culture and our own minds. That's what this campaign is about. It's about strong words that reveal the ideas that need to be seen for what they are. It is not always pretty to see what is hidden deep in our psyche (or even just slightly under the surface), but it is important to see it clearly so that we may call it out and change it."
The campaign has released 25 advertisements, which showcase women side-by-side with stark messages that highlight the "madness" involved in trying to meet impossible beauty standards set by the media. The idea, according to founder Robin Rice, is to challenge the belief that a woman's beauty determines how much she's worth.
"My main mission is to say if women are worried about their weight and their looks to the point that they're not actually putting themselves in the world, then we're missing out on some really extraordinary individuals and some really important conversations we need to be having," Rice told HuffPost. "Women need to be helping the world move in a more beautiful direction -- a genuinely beautiful direction."
The collection of ads address all the elements of "beauty" including age, size and race. One of them shows a thin woman with the caption: "I'm not anorexic. I'm not sick. I'm not a 'lucky dog.' I'm thin. It's a body type," playing off the misconception that all lean women are either ill or have the ideal body type.
"Naturally thin women, or women who choose to work out and have really buff bodies, or elderly women, are not excluded from this conversation. They get their own backlash," Rice said.
Check out the empowering ads below: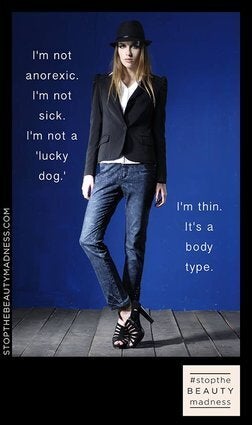 Stop The Beauty Madness Campaign
Get more fashion and beauty tips on our Pinterest page