A disturbing undercover video shows workers punching, kicking and in at least one case hammering sheep into submission before they are sheared.
While PETA won't reveal where the footage was taken — citing safety concerns for its undercover operatives — the group claims 19 shearing sheds were visited In Australia.
All of them scenes of horror.
"We didn't see any vet care for any of the sheep and despite, them putting up no resistance, they were horribly abused," Claire Fryer, a campaign coordinator at Peta Australia, told the Guardian. "Sheep are very gentle animals and this was terrifying for them.
"Shearers are unusually paid by volume, not by the hour, which encourages fast, rough work which cuts the bodies of sheep. Put simply, there is no such thing as humane wool. We'd urge Australians to leave wool out of their wardrobes entirely."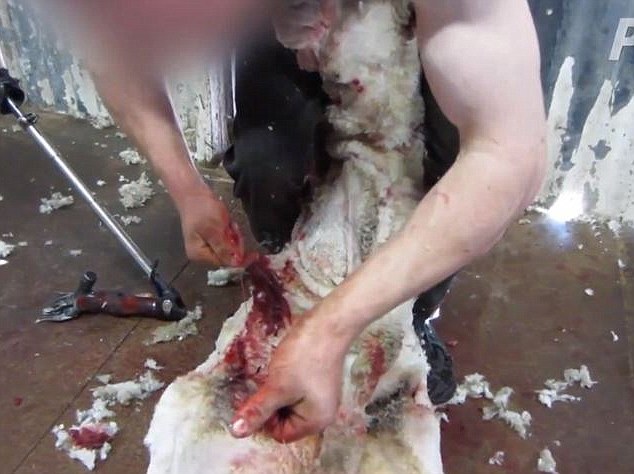 The sheep are allegedly given no painkillers when they are shown
In the video, the animals squirm and quake, as workers lean over them with shears. Apparently, not quite cooperative enough, the sheep are punched and kicked into something resembling submission.
And then their wool is removed.
Seeing, however, isn't necessarily believing for everyone.
Australia's agriculture minister Barnaby Joyce expressed some doubts as to the video's authenticity.
"One of the questions I ask is with the up close shot of the man hitting the sheep, which is obviously exceptional and cruel and in many instances would be immediate dismissal, where exactly was the camera?" he asked state news agency ABC News.
"Did the person know that they were filmed? Were they actually part of the process? There are lots of questions that need to be asked."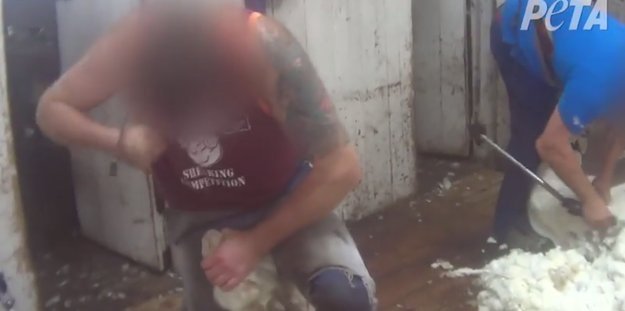 The Royal Society for the Prevention of Cruelty of Animals (RSPCA) will also be asking questions as it launches a probe into the PETA allegations.
Here's the official statement:
Overnight, the RSPCA received cruelty complaints from People for the Ethical Treatment of Animals (PETA) regarding the alleged ill treatment of sheep during shearing in New South Wales and South Australia between August 2013 and March 2014.

The allegations relate to workers beating, kicking and stomping on sheep, and stitching wounds without anesthetic.

The vision made publicly available by PETA overnight shows sheep being beaten with shearing hand pieces and thrown down a chute.

Sheep that had been injured during shearing are roughly stitched up.

RSPCA notes that shearing is stressful for sheep and it should be carried out by trained and competent workers.

The allegations are serious and will be investigated by RSPCA Inspectors as information comes to hand for potential breaches of the relevant state animal welfare legislation.
Also on HuffPost
Chilliwack Cattle Sales Dairy Farm