After the Pitbull-infused rampage that was the 2014 World Cup opening ceremony, the last thing we expected was a fairly normal and straightforward closing show on Sunday in Rio de Janeiro.
Shakira took her rightful place as the songstress of the World Cup, headlining a closing ceremony that was fairly normal in its execution and style. In other words, no vegetables were harmed in the making of this ceremony.
The Colombian singer, beloved for her pitch-perfect 2010 World Cup anthem, was at the centre of a campaign to instill her new song as the official anthem of Brazil, and not the Pitbull, Jennifer Lopez, and Claudia Leitte (for 14 seconds) shout-a-thon.
Shakira opened the ceremony with that very number, belting out "La La La" with Carlinhos Brown at the centre of the Maracana while dancers shimmied about around her.
Other performers included Wyclef Jean, Carlos Santana, Alexandre Pires, and Ivete Sangalo.
The performance was held before the World Cup final between Germany and Argentina (CBC TV, cbc.ca/fifaworldcup, 3 p.m. ET).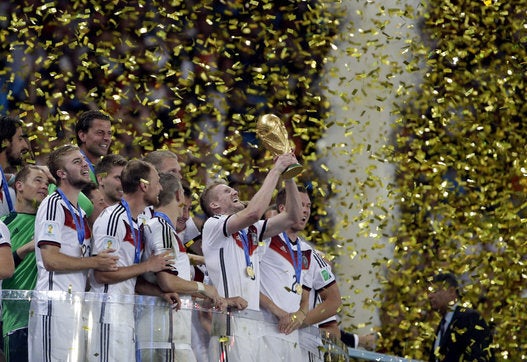 PHOTOS: 2014 World Cup Final