Attention actors, good liars, or anyone looking for free food and drink: a Vancouver bride needs your help.
She's marrying a "really popular" groom who already has six groomsmen. Problem is, she only has one bridesmaid and needs five more ladies to step up so there's an even number for wedding photos.
In an ad posted to Craigslist this week, the woman, who is getting married in August, offers a negotiable rate of $20 per day, a free dress, and free food and drink. Sounds pretty good, right?
In exchange, she only has a few requirements: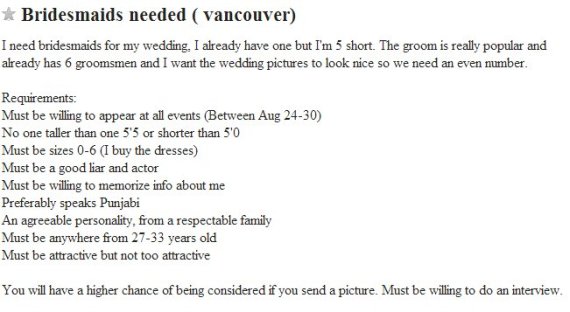 Seems reasonable. Like all brides are.
If you can't read the text above, the ad states:


"Must be willing to appear at all events (Between Aug 24-30)


No one taller than one 5'5 or shorter than 5'0


Must be sizes 0-6 (I buy the dresses)


Must be a good liar and actor


Must be willing to memorize info about me


Preferably speaks Punjabi


An agreeable personality, from a respectable family


Must be anywhere from 27-33 years old


Must be attractive but not too attractive"
Like Us On Facebook

Follow Us On Twitter
Also on HuffPost