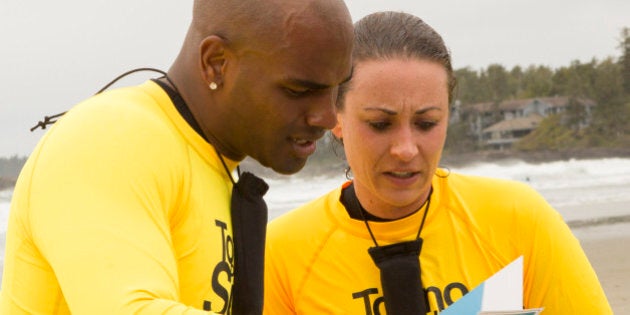 WARNING: Spoiler Alert! Do not read on unless you've seen "Amazing Race Canada" Season 2, Episode 2. Unless you like spoilers, then go right ahead!
How hard is "The Amazing Race Canada"?
Poor Shawn had to bow out of the competition after a surfing accident left him with a dislocated shoulder. Minutes earlier, we're shown Rex and Bob taking not one, but two time penalties for voluntarily opting out of both the surfing and seemingly simple driftwood chair-building task. After a six-hour punishment, they're still in it, but they've certainly lost face.
Tofino, B.C.: 2. "The Amazing Race Canada": 0.
We know the race is the ultimate battle of endurance and stamina, but does it have to be this brutal for the competitors? Shahla and Nabeela were "medically eliminated" last week, and now that the show is Hong Kong-bound (a poorly-kept secret, thanks to Instagram and "dark social") -- is more trouble on the way?
Regardless, the editors gave us quite the tease of how the episode would play out within the first five minutes.
"Heading out in last place is not the ideal position to be in, but we have nothing to lose," said Jen, Shawn's wife, and fellow Haligonian. A good attitude, but famous last words for the racer.
Of course, this also followed Rex's proclamation of, "I think third is a great place, and if we're not total idiots, we'll still be here today!"
But were Rex and Bob "total idiots" for taking the double penalties? According to the ballet dancer's Twitter page, their version of the surfing challenge was harder than the others.
If Rex is right, this was a colossal time management misstep by the show's producers. We get it -- fish are gross, and that "Sharp Knives" vs. "Sharp Eyes" Detour was confusing because the teams kept switching sides. But, it didn't need that much exposition, at least not for every team. Pierre and Michel are butchers, and are adorably playing for their father – the patriarch of their family business. Cute! Laura and Jackie are vegetarians, and are grossed out by the seafood. Sukhi and Jinder "know biology" but can't sort fish properly on the first try. Alain and Audrey are worrying about running out of fish to fillet, when they're surrounded by "angles." Let's move on.
We should have seen more about why Rex and Bob couldn't carry their tasks and Roadblocks to completion. It would have also been great to spend just three extra minutes with Jen and Shawn, to delve deeper into their heartbreaking end of the road.
Perhaps the race's temporary move to China will be the "Chevrolet Volt" it needs to boost its energy, and pump up the positivity.
In the meantime, Natalie and Meaghan are stomping through the competition. Finishing in first for the second leg straight, these two are clearly the team to beat -- with a killer instinct and tenacity that pushes them through fish frustration.
"We've had a little bit of down time since the Olympics," Meaghan said. "I know I've been missing the competition."
Aside from the Olympians, we're also getting a taste of the racers' personalities.
Montreal dating duo Alain and Audrey prefer to bicker in French, and Mickey and Pete are amateur stand-up comics who make us laugh. Sukhi and Jinder are goofballs, too, but their excessive showboating is already starting to get in the way of their track record -- running to get their Chevrolet Volt charged, when it actually had 453 km left on it. Sigh.
Hopefully next week, we'll see if the "fishy turn" in Tofino was just a bump in the road. It should be interesting to see what happens to the teams when the native language isn't English (or French).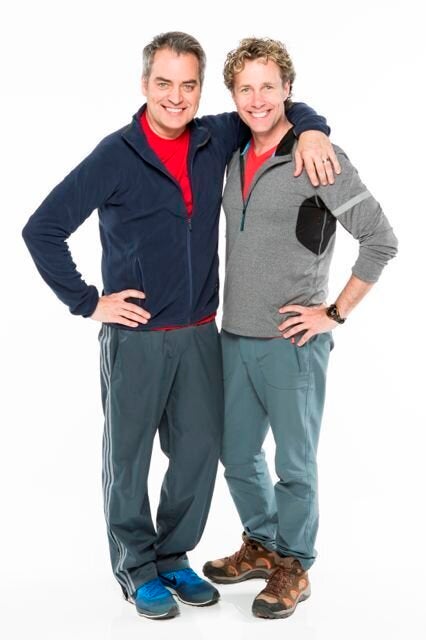 'Amazing Race Canada' Season 2 Teams